Media Release
Tuesday, 20 December 2016 13:55
Tourism Greater Geelong and the Bellarine
Tourism Greater Geelong and the Bellarine launched a campaign into China today aimed at increasing the Dwell Time of Chinese tourists who visit the area on tourist buses.
A recent study by the Victorian Government showed the average spend by tourists at the Twelve Apostles on the Great Ocean Road was 14 cents.
A new web app 'Birds of the Bay,' developed by Melbourne communications strategist, Ron Smith and featuring the work of Bob Winters, one of Australia's leading environmental educators, was released in Geelong today on the waterfront.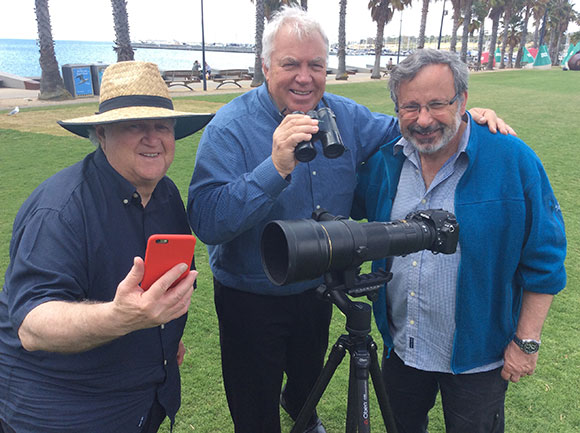 Left: Ron Smith; Roger Grant, Executive Director, Tourism Greater Geelong and the Bellarine with
environmental photographer Bob Winters at the Geelong launch of the Birds of the Bay App

Birds of the Bay is also to be released to millions of potential Chinese tourists and tourism operators in the region.
Executive Director of Tourism Greater Geelong and the Bellarine, Roger Grant said the Birds of the Bay App is an exciting combination of technology and quality environmental information in a format that could be spread across the organisation's national and international foot print.
Mr Grant said international visitors spent 790700 nights in the Geelong/Bellarine region for the year ending June 2016. The most significant purpose of visitation was having a holiday followed by visiting friends and relatives and business.
"Visitation from Mainland China is the second largest source market (13%) just behind New Zealand (14%). Chinese visitation has grown strongly to the region in the last five years and it is expected to be the largest source market by next year.
"International visitors spent $83 million in the region for the year ending June 2016.
"Importantly we will be letting all of the tourism operators such as cafes, caravan parks and tourist boat operators that they can alert their customers to the Free Download of Birds of the Bay."
The more tourists understand about the environment of Port Phillip and Western Port Bay with the opportunity to enjoy the broad range of experiences on offer, the greater chance we have to increase the time and money spent in our region, Mr Grant said.
Ron Smith said the Birds of the Bay App, apart from being a vehicle to promote tourism, has been designed as an educational program for children and adults to be downloaded by just tapping on the screen at www.birdsofthebay.com.au. We believe this approach protects people's privacy.
Media Enquiries:
Ron Smith, Corporate Media Communications - Mobile: 0417 329 201