Media Release
Monday, 12 December 2016 15:04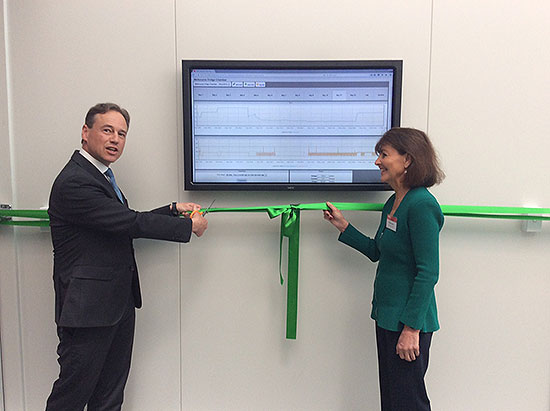 The Hon Greg Hunt, Federal Minister for Industry, Innovation and Science cutting the ribbon to officially open the Domestic Refrigeration Testing Chamber, with Vipac Chairman, Wendy Smith.
Refrigeration manufacturers from around the world will use the testing chambers to ensure their products meet the Australian Standards, which underpin consumer confidence on an appliance that runs twenty four hours a day playing a central role in ensuring healthy storage of food and drinks in every Australian home.
Chairman of Vipac Engineers & Scientists, Wendy Smith said in many cases manufacturers use the refrigeration testing chambers to test proposed new models before they go into full production to ensure standards in safety, energy use and performance. Vipac also conduct random tests on refrigerators direct from retailers to compare performance against consumer labelling.
Ms Smith said "With vehicle emissions a major issue in climate change policies, Minister Hunt also viewed a demonstration of emission testing being carried out in a simulated dynamometer road test on a modified vehicle."
Vipac Engineers & Scientists' new Emissions Test Cell incorporates the only 'fully transient' heavy duty chassis dynamometer in Australia capable of testing a full range of vehicles from passenger cars through to prime movers.
As Australian cities reach for the sky with taller buildings, wind planning has become increasingly important with architects and developers needing to undertake tests in conditions that replicate major storms and hurricanes. A demonstration of the Vipac Wind Tunnel, powered by a Boeing jet engine, provided a rare opportunity to see the inside story of the latest techniques of wind planning which impacts on every capital city and can determine the look and size of buildings of the future.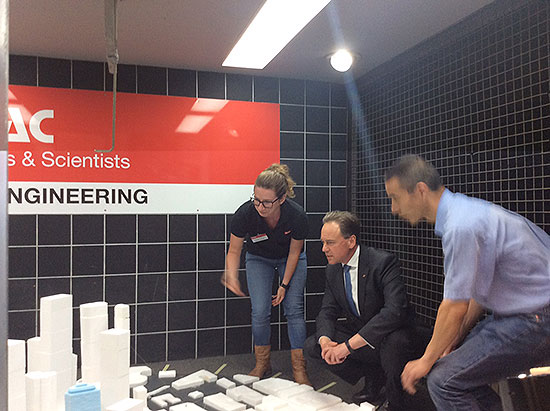 Federal Minister for Industry, Innovation and Science, the Hon Greg Hunt, inside the Vipac Wind Tunnel with Vicpac staff Sophie Lamande and Dr Zhuyun Xu.

For further information, images or to arrange an interview please contact: Ron Smith Mobile: 0417 329 201
About Vipac Engineers & Scientists
Since 1973, Vipac Engineers & Scientists has been delivering engineering solutions worldwide that shape the testing landscape, transform skylines, improve safety and enhance environmental sustainability. From a collaboration with NASA on space shuttles, to advising on the World's Tallest Building, Vipac's service portfolio is as diverse as its workforce, including the automotive, building and infrastructure, transport, rail, mining, power, oil, gas and consumer appliance markets.
With 150 trained specialists and eight offices located throughout Australia, Vipac combines international expertise with local knowledge to support the communities in which they work. Vipac is a National Association of Testing Authorities (NATA) accredited laboratory and ISO 9001 compliant company.
www.vipac.com.au