Media Release
Wednesday, 26 September 2018 15:02
Martin Howley, a fifty-year-old Irishman who lost his mother and sweetheart to Breast Cancer, will leave Sydney on Friday morning on the start of a 4,343 kilometre fundraising ride in support of the Think Pink Foundation.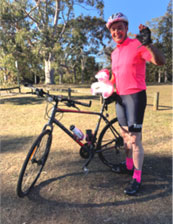 Martin Howley
Speaking before the start of the charity solo bike ride, Martin said he expected to finish the ride, in honour of his mother Claire and girlfriend, on Sunday 28 October 2018 in Perth.
The ride has been timed for the month of October - Breast Cancer month.
"I have been gearing up the training for the ride for the past eight months. The ride includes pedalling from Sydney to Melbourne, then Melbourne to Adelaide and Adelaide to Perth, to make a difference by fundraising for the Think Pink Foundation and its Living Centre.
"The Think Pink Foundation provides practical support services free of charge to patients and their families to enable a better journey through Breast Cancer."
Irene Hendel OAM, Founder and Patron of the Think Pink Foundation, said "In 2018, an estimated 18,235 Australians will be diagnosed with breast cancer, an average of 50 people per day. Approximately 3,000 Australians will die from breast cancer in 2018 / 2019.
"This outstanding personal commitment by Martin to assist in raising funds will also have a positive impact on raising awareness in relation to the challenges women, men and families face during the Breast Cancer journey."
Spread the news of Martin's ride on your own Facebook page.
Join Martin on Facebook for Trip Updates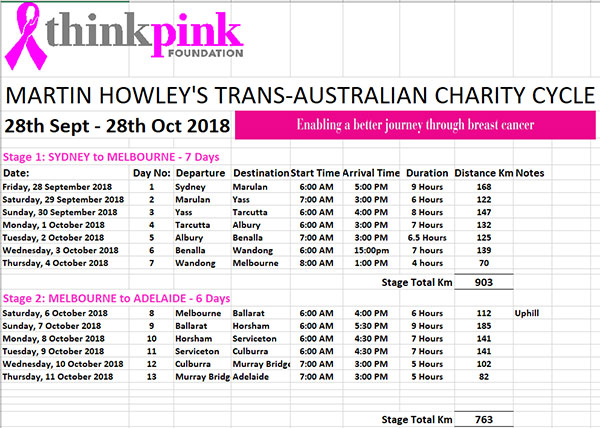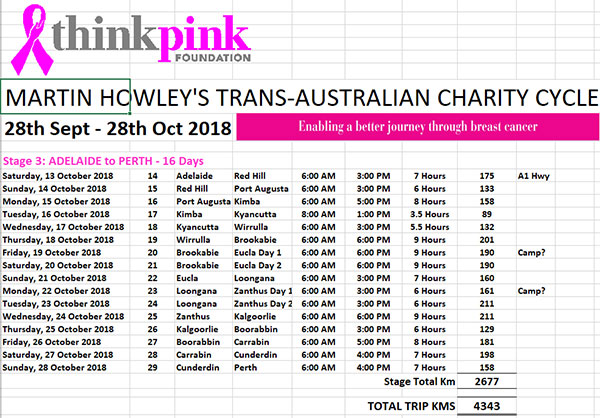 Click here to help Martin reach his target and support the Think Pink Foundation by visiting Martin's fundraising page.
Media Enquiries:
Ron Smith, Chairman, Think Pink Foundation - Mobile: 0417 329 201