Media Release
Monday, 18 July 2016 15:00
BIAV and Tourism Greater Geelong & the Bell
The Boating Industry Association of Victoria (BIAV) and Tourism Greater Geelong and The Bellarine have backed the 'Tourism Option' from the seven possible land use scenarios for the future Moolap strategy plan recently released as a discussion paper by the Victorian Government.
Steven Potts, Chief Executive of the BIAV has urged the Victorian Government to recognise the economic, environmental and social potential of the City of Geelong to become the Boating Capital of the Bay of international quality as a key element of Geelong's tourism strategy to expand and strengthen existing businesses and local employment opportunities.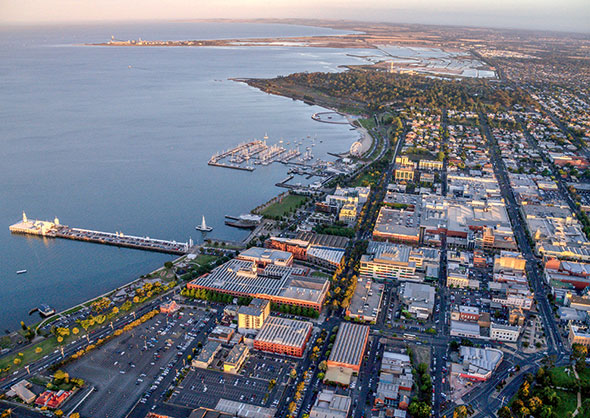 Aerial view of the Geelong waterfront, Point Henry, and Stingray Bay
Photo Courtesy Tourism Greater Geelong and The Bellarine
Mr Potts said the projected increase of the population in the central coast area of Victoria, including Port Phillip and Western Port Bays, from 4.6 million to nearly 8 million by 2050, will see a doubling of boating activities which will boost Victoria's 'BLUE ECONOMY' considerably.
On current numbers this would see the number of recreational water craft in Victoria jump to 344,000, and if there are no changes in trends, 95% of the 344,000 Victorian recreation vessels would be trailered, less than 8 metres in length with 68% of registered boats being operated on Port Phillip and Western Port Bays.
"One also needs to consider the dramatic increase in the population of the western suburbs of Melbourne and the Geelong region which provides Geelong and its community with a major opportunity to encourage private investment to create long term stable employment in the marine industry and associated tourism activities," Mr Potts said.

Roger Grant, Executive Director of Tourism Greater Geelong and The Bellarine said, the 'Tourism Option' in the Moolap strategy plan would provide both public and private facilities and this is a good turnkey economic foundation to combine tourism activities with the potential of a sustainable increase in boating and coastal residential marina development, a tourism attraction in its own right.
"The tourism and boating activity is also complemented by the open space proposed in the tourism plan which will encourage environmental and passive recreation for both residents and visitors.
"The City of Greater Geelong has a strong and growing visitor economy with an extensive events calendar, an established wine and food culture with an impressive north facing waterfront."
Mr Grant said the development of the tourism, coastal residential, marina and boating focus would provide a major opportunity to build on our existing success of 1.1 million domestic overnight visitors, 3 million day trips, and 45,000 international visitors.
Tourism contributes $563 million to Greater Geelong's GRP (5.4%), supports 6,182 local jobs and generates $1.2 billion of direct and flow-on output annually.
Both organisations have called for an urgent transparent cost analysis of each of the options proposed with the identification of funding sources for both construction and ongoing environmental management of rising sea levels and flooding which have been highlighted in the initial report.
FUNDING VIABILITY ON OPTIONS NEEDED FOR PROPER ASSESSMENT
They said that it is important the Geelong community are made aware of the viability of the options they are being asked to comment on, and if the City of Greater Geelong would be required to fund major open space maintenance or fund infrastructure of any proposals through increased rate rises or if State Government funding would be made available.
Importantly there should be an accurate cost benefit analysis of each option in relation to the number of jobs created, the economic benefits to the Geelong Community, the feasibility of each proposal on how it was going to be funded and if funding is actually secured.
Media Enquiries:
Ron Smith, Media Communications, BIAV - Mobile: 0417 329 201