Media Release
Monday, 18 January 2016 13:08
BIAV and Tourism Greater Geelong & the Bell
Private Investment Needed in Coastal Infrastructure to Stimulate Tourism
The Boating Industry Association of Victoria (BIAV) today said the projected increase of the population in the central coast area of Victoria, including Port Phillip and Western Port, from 4.6 million to nearly 8 million by 2050, will see a doubling of boating activities which will boost Victoria's 'BLUE ECONOMY'.
The BIAV said the Victorian Government needs to encourage private investment in coastal infrastructure and create a Blue Infrastructure Fund to cope with the long term demand of access to water by Victoria's rapidly growing population and the protection of Victoria's most valuable natural and economic assets, Port Phillip and Western Port Bays.
Speaking at a Geelong Boating Tourism Conference at Deakin University today, Steven Potts, CEO of the Boating Industry Association of Victoria said, Geelong has all of the natural waterfront advantages to become a 'magnet city' for Boating Tourism and lifestyle.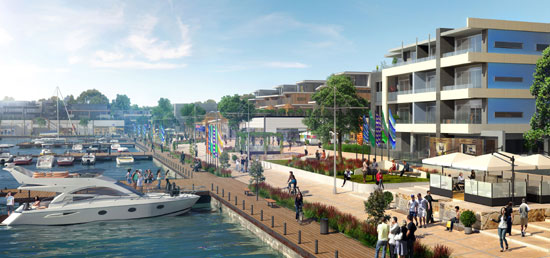 Artist impression of the proposed $5.2 billion Nelson Cove precinct at Geelong
Download the Briefing Document at www.nelsoncove.com.au
Mr Potts said, "The proposed Nelson Cove - 4000 berth marina residential lifestyle and sporting precinct, is forecast by MacroplanDimasi, one of Australia's leading property economists, to add $20 billion of economic activity over nineteen years to Geelong.
"This should be recognised as a major generational once in a lifetime opportunity to boost the Geelong economy, create a major boating tourism destination facility and more importantly thousands of jobs over the lifetime of the project and beyond."
Mr Potts said that 95% of the 172,000 of Victorian recreation vessels are trailered, less than 8 metres in length with 68% of registered boats being operated on Port Phillip and Western Port Bays.
A Roy Morgan research poll in 2014 showed 86% of Victorian Boat Owners planned on taking a trip in 2015 with Geelong, Queenscliff, and the Barwon Heads Region in the top five destinations.
Roger Grant, Executive Director, Tourism Greater Geelong & the Bellarine said, "The co-ordination of tourism and boating activities such as fishing, water skiing, sailing and scuba diving can maximise employment and investment opportunities.
"Major tourism lifestyle development with waterfront locations are always popular and boating activities through local clubs such as the Royal Geelong Yacht Club, who organise the Festival of Sails which attracts thousands of visitors to Geelong."
Mr Grant said, the Geelong Boating Tourism conference, attended by the City of Greater Geelong, Geelong Authority, Viva Energy, Parks Victoria, Deakin University, Victorian Tourism Industry Council, Royal Geelong Yacht Club, G21 and the Committee for Geelong was an important and positive exchange of ideas.
The BIAV and Tourism Greater Geelong & the Bellarine has agreed to set up regular discussions on relevant issues to boost investment in boating related tourism.
Media Enquiries:
Ron Smith, Corporate Media Communications, BIAV - Mob: 0417 329 201