Media Release
Thursday, 21 January 2016 10:47
'1,400 seals die every year as a result of entanglement injuries, along with sea birds, whales, dolphins and turtles'...Melbourne Zoo.
The Boating Industry Association of Victoria and the Melbourne Zoo have issued an Operation Bay Watch Alert for people boating on Port Phillip Bay near Chinaman's Hat to look out for Juvenile Australian Fur Seal.
The animal was last seen entangled in a piece of white and red rope at Chinaman's Hat at around 10.00am, Tuesday 19 January 2016.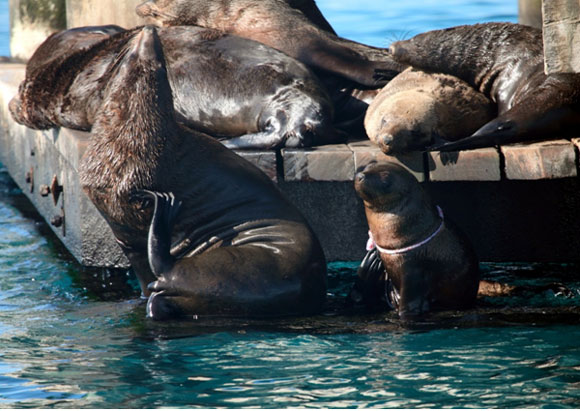 The entangled seal seen at Chinaman's Hat, Port Phillip Bay.
Operation Bay Watch and Help Protect our Marine Life
If you see entangled or distressed marine wildlife contact the Zoo's AGL Marine Response Unit.
Take a photo on your mobile phone of the injured marine wildlife and text it to the Zoo's AGL Marine Response Unit with a description of the location.
0447 158 676 or email This e-mail address is being protected from spambots. You need JavaScript enabled to view it
Follow up with phone call.
Media Enquiries:
Ron Smith, Media Communications, BIAV - Mobile: 0417 329 201