Media Release
Thursday, 02 April 2015 10:42

Lynn Berry
Click here for the inside story where it all started with Lynn Berry
Thousands of Australians involved in the 5000 Poppies project have been invited to become part of Federation Story, the Federation Square digital time capsule on the history of Australia, with their own personal 5000 Poppies stories recording their involvement and thoughts on the outstanding nationwide community project.
Project creators, Lynn Berry and Margaret Knight, two Melbourne based fibre artists today said, "Recording the personal stories in Federation Story would provide a permanent record for those involved and future generations of their family members".
With Federation Story being used by the education sector for research into contemporary life, the 5000 Poppies project will provide a great example of community involvement in respect and remembrance of the sacrifices made by previous generations to protect Australia and provide us with nation we have today.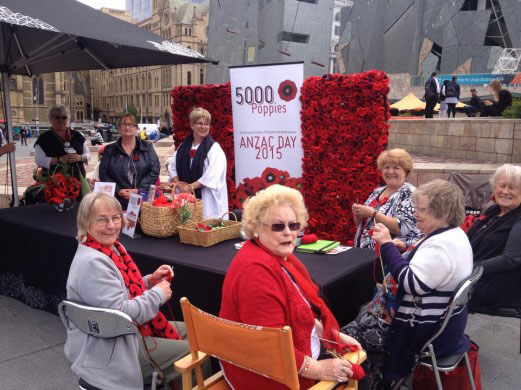 5000 Poppies workshop at Federation Square
Lynn Berry said a special display of over 250,000 poppies will be held at Federation Square on the eve of ANZAC Day for the community and those involved.
Media Enquiries:
Ron Smith, Corporate Media Communications, Fed Square - Mobile 0417 329 201