Media Release
Monday, 18 April 2016 10:49
Boating Industry Association of Victoria
The Boating Industry Association of Victoria (BIAV) today said the official opening of Wyndham Harbour Marina, located on the western shores of Port Phillip Bay near Werribee, one of the fastest growing areas of Melbourne, is a major indication of the importance of residential marina developments to the Victorian economy.
Steven Potts, Chief Executive of the BIAV said, "high quality strategically located marina residential developments, such as Wyndham Harbour, can unlock billions of dollars of investment activity and thousands of jobs.
"The marine sector in this state as an industry is worth $4.5 billion to the Victorian economy and provides over 17,700 FTE jobs."
Mr Potts said more importantly, these developments provide a pathway for the private sector to be able to fund urgently needed BLUE INFRASTRUCTURE, which the Victorian Government or local councils at this stage, do not have and will not have in the future, the money to fund this infrastructure unless there are changes to budget allocations.
The BIAV strongly supports the view expressed by the Hon. Tim Pallas, State Treasurer, at the opening of Wyndham Harbour that "Port Phillip Bay, especially the western side, is a community asset that is essentially still a 'blank canvas', is under utilized and suffers from under investment."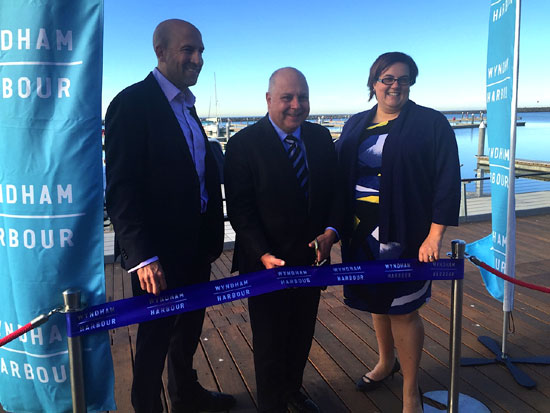 The Hon. Tim Pallas, Treasurer of Victoria officially opening Wyndham Harbour with Barry Brott from
Wyndham Harbour and Cr. Adele Hegedich, Mayor of Wyndham City Council.
The projected increase of the population in the central coast area of Victoria, including Port Phillip and Western Port, from 4.6 million to nearly 8 million by 2050, will see a doubling of boating activities which will boost Victoria's 'BLUE ECONOMY'.
There are over 172,000 registered boats in Victoria, and with a rapidly growing population, the number of boats in the State is set to double due to increases in population and pressure on green space, seeing the community turning to the BLUE SPACE of Port Phillip and Western Port Bays.
"95% of the 172,000 Victorian recreation vessels are trailered, less than 8 metres in length with 68% of registered boats being operated on Port Phillip and Western Port Bays."
Left: Paul Little from Wyndham Harbour, Victorian Treasurer Tim Pallas, Steven Potts, CEO of the BIAV
and Irene Hoe, President of the BIAV at the launch.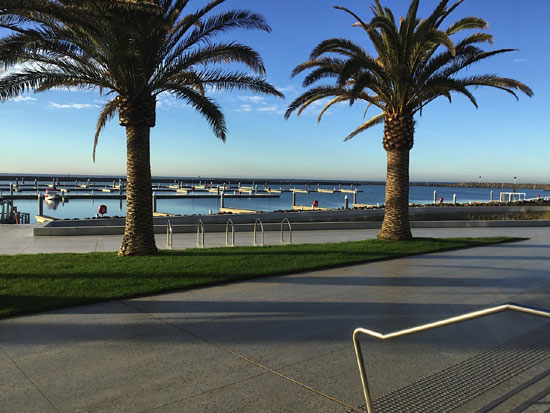 Wyndham Harbour
Media Enquiries:
Ron Smith, Corporate Media Communications, BIAV - Mobile: 0417 329 201