Media Release
Monday, 21 December 2015 11:50
Boating Industry Association of Victoria
The Boating Industry Association of Victoria (BIAV), the peak body for the Victorian marine industry, is pleased to announce Irene Hoe as its President, becoming the first female president in the organisation's 54 year history.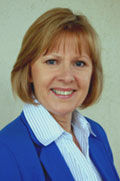 Irene Hoe, President BIAV
Irene Hoe has been the General Manager of Western Port Marina at Hastings since 1997.
A certified Marine Marina Manager with a Masters of Business Administration, Irene is currently undertaking a Masters in International Relations and is also an active member of the Marina Association.
Commenting on her election, Irene Hoe said, "The boating industry is set to play an increasing role in the economic development of Victoria with extensive population growth forecast to be located around the coast.
"The Victorian Boating Industry contributes $4.5 billion annually to the Victorian economy and has set an agenda to expand employment and promote lifestyle and the health benefits of boating and fishing.
"There are currently 268,336 current Marine Licences, 172,805 registered boats and 996,000* boating participants in Victoria (*Morgan Poll 2012 - Victorian and Tasmania). This is set to double by 2050 as people turn to BLUE open space for lifestyle and sporting activities."
The network of successful boating, yachting and fishing clubs in Victoria, catering for all ages, is a strong foundation for increasing activity on the water and plays a major role in supporting thousands of Victorian small businesses, especially in country and regional Victoria, Ms Hoe said.
Chief Executive of the BIAV, Steven Potts, said access to water underpins considerable economic opportunities for Victoria that are being generated by the boating industry, including boat building, maintenance, repairs, storage, moorings, and boating destination tourism.
However, the major issue facing coastal management and planning in Victoria is the lack of any substantial source of ongoing funding to address the complex issues of the future coastal management, the demand of increased population, and the ongoing environmental management of our bays and coastal interface, Mr Potts said.
Media Enquiries:
Ron Smith, Media Communications, BIAV - Mobile: 0417 329 201