Media Release
Thursday, 10 December 2015 13:59
Boating Industry Association of Victoria
The Boating Industry Association of Victoria (BIAV) has welcomed the introduction of safer and clearly marked swimming and boating zones in Port Phillip and Western Port Bays following an extensive review by Parks Victoria.
Steven Potts, Chief Executive of the BIAV, said the $550,000 upgrade of signage and navigation aids announced by the Minister for Environment, Climate Change and Water, Lisa Neville earlier this week, would add to the safety of all water users on two of the most popular areas of blue open space in Victoria.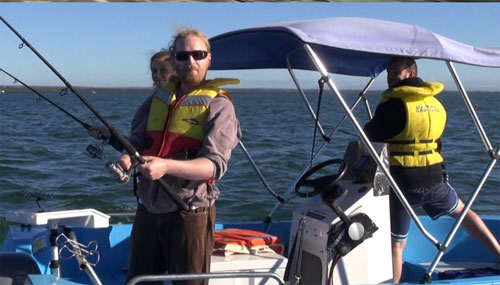 Elijah and his mates fishing off Hastings
"Clearly marked zones for water activities such as swimming, boating, shared wind sports (kite boards and wind surfers) and shared zones is recognition of the developing range of water activities and the need for all water users to consider both their own and other water users' safety.
"Currently 95% of the Victorian recreation vessels are trailered, less than 8 metres in length with 68% of Victoria's 172,000 registered boats being operated on Port Phillip and Western Port Bays."
Mr Potts said the projected doubling of the population in the central coast area of Victoria, including Port Phillip and Western Port, from 4.6 million to nearly 8 million by 2050, will see clearly marked activity zones become a major factor in the future planning of Victoria's coastal areas.
Access to water from a growing population is one of the major challenges highlighted by the Boating Industry Snap Shot Drivers of Change report released earlier this year.
Mr Potts said the BIAV would be actively promoting the new zones throughout the boating community.
The four zones are:
'swimming only' - where no vessels are permitted
'boating only' - where only boating activities are permitted but speeds are limited to 5 knots
'shared wind sports' - where kite boards and wind surfers can exceed 5 knots within 200m of the shore unless they are within 50 metres from another vessel or swimmer
'shared zones' - where boating and swimming are both allowable but with vessel speeds limited to 5 knots within 200 metres from shore.
Maps featuring the new zones for the Bellarine Peninsula and Corio Bay are available at: http://parkweb.vic.gov.au/park-management/bay-and-waterways-management/boating-zones.
For further information about the new boating and swimming zones visit www.parks.vic.gov.au or call Parks Victoria on 13 19 63.
Media Enquiries:
Ron Smith, Media Communications, BIAV - Mobile: 0417 329 201