Media Release
Thursday, 27 August 2015 15:28
Boating Industry Association of Victoria
The Boating Industry Association of Victoria today met with the Federal Minister for Small Business, the Hon. Bruce Billson MP, to discuss the expansion of employment in the boating industry in Victoria, which already supports hundreds of small businesses and is set for expansion.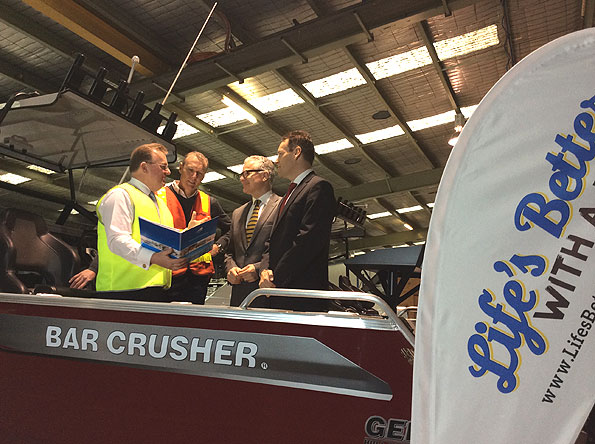 Left: The Hon Bruce Billson MP, Federal Minister for Small Business; Peter Cleland, Director, Bar Crusher Boats;
Paul Benjamin, President BIAV and Steven Potts, CEO, BIAV.
Victoria's marine industry employs over 17,700 EFT and contributes $4.5 billion to the Victorian economy annually.
Mr Billson got a first hand view of the industry when he toured the headquarters of Bar Crusher Boats, one of Australia's most successful boat builders.
The company is recognised in the industry as building a full range of high end aluminium fishing boats with innovative design.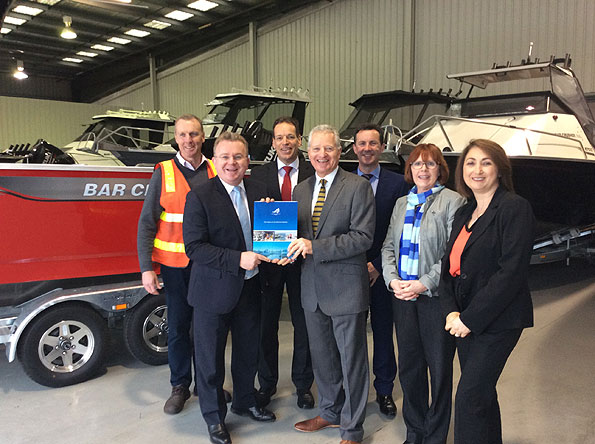 Left: Peter Cleland, Director, Bar Crusher Boats; The Hon. Bruce Billson, Federal Minister for Small Business;
Steven Potts, CEO, BIAV; Paul Benjamin, President, BIAV; Carl Cowie, CEO, Mornington Peninsula Shire Council;
Irene Hoe, Vice President, BIAV and Gloria Sleaby, Chair, CPA Small to Medium Enterprises Committee at Bar Crusher Boats.
Steven Potts, Chief Executive of the BIAV said the projected increase of the population in the central coast area of Victoria, including Port Phillip and Western Port, from 4.6 million to nearly 8 million by 2050, will see a doubling of boating activities which required long term planning and increased production.
Eighty eight per cent of people buying boats prefer to purchase Australian Made water craft. (2014 Boating Survey)
"Currently 95% of the Victorian recreation vessels are trailered, less than 8 metres in length with 68% of Victoria's 172,000 registered boats being operated on Port Phillip and Western Port Bays."
The 2014 Victorian Boating Survey found the most common boat in Victoria is a four to five metre cabin vessel valued from $15,000 to $25,000.
Mr Potts said with Melbourne's population set to double, the current use of the Bays by the community will increase, considerably, especially with a lack of green space, and the community in rapidly growing areas will turn towards the use of BLUE SPACE on the water.
"Lower interest rates are also playing a part making it easier and cheaper for people to finance buying a boat.
"Whilst this expansion creates funding challenges, it also creates an opportunity to increase employment in the marine and associated industries through areas such as boating destination tourism.
"Boating holidays are becoming more desirable to boat owners thanks to cheaper petrol prices, better trailers, larger trailable boats and rising inland waters."
Roy Morgan Research in 2014 found that 86% of boat owners planned to take a boating trip within the next twelve months.
Mr Potts said boating destination tourism provided a valuable economic contribution to regional and country areas with expenditure in a range of areas from accommodation to food and fuel.
There are more boats than caravans or motor cycles in Victoria.

Media Enquiries:
Ron Smith, Corporate Media Communications, BIAV - Mobile: 0417 329 201