Media Release
Monday, 15 June 2015 15:22
Boating Industry Association of Victoria
The Victorian Boating Industry, which contributes $4.5 billion annually to the Victorian economy and employs 17,700 people, today launched Victoria's first Boating and Marine Industry Careers Guide.
Apprentices, career practitioners and TAFE representatives attended the official launch the Boating and Marine Industry Careers Guide by the Hon. Steve Herbert MP, Victorian Minister for Training and Skills at the Melbourne Boat Show..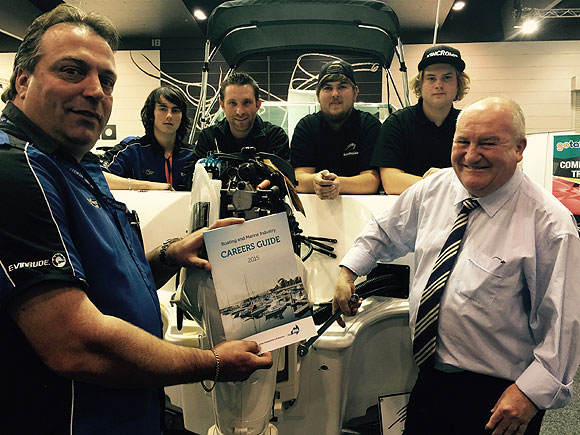 Official Launch of the Boating and Marine Industry Careers Guide at the Boat Show
Left: Paul Junginger, Evolution Boats; Apprentices Nathan Graham - Evolution Boats;
Alan Heib, Sam Humphreys and Nick Humphreys - Southside Marine Services,
with the Victorian Minister for Training and Skills, the Hon. Steve Herbert MP.
Download a Copy of the Careers Guide
The launch has been timed to take place at the Melbourne Boat Show, which showcases the industry. Over the last four days, a number of apprentices have been finishing a fibreglass boat for Melbourne boat manufacturer, Evolution, which will be inspected by Minister Herbert.
Steven Potts, Chief Executive Officer of the Boating Industry Association of Victoria (BIAV), said the 'Boating and Marine Industry Career Guide' for Victorian schools and tertiary education institutions, provides information pathways to maximise the training and employment opportunities within the industry.
"We have been using the Melbourne Boat Show to recruit apprentices with a 'live' demonstration of a boat being built during the Boat Show and also conducting special briefings for careers teachers on the career opportunities within the boating industry."
The recent BIAV industry "Snap Shot" DRIVERS OF GROWTH in VICTORIA details the economic opportunities for Victoria being generated by the Victorian boating industry including boat building, maintenance, repairs, storage, moorings, and marina developments and boating destination tourism.
Mr Potts said, "Victoria is well represented in Australian boat manufacturing with prestigious brands including: Bar Crusher Boats, Bass Strait Boats, Caribbean, Edencraft, Evolution, Haines Hunter, Hart Marine, Malibu, Spy Boats, Streaker Boats, and Whittley, and trailer manufacturers including Easy-Tow, Dunbier and Mackay.
"These brands are major contributors to Victoria's $4.5 billion boating economy.
"With 90% of the boating community saying they preferred to buy Australian made, according to the 2014 boating survey, the Victorian boat industry has strong local consumer support and a bright future for expansion and increased employment opportunities."
Media Enquiries:
Ron Smith, Corporate Media Communications, BIAV - Mobile: 0417 329 201