Media Release
Tuesday, 31 March 2015 14:08
Boating Industry Association of Victoria
Federal Treasurer Joe Hockey meets with the Boating Industry Association of Victoria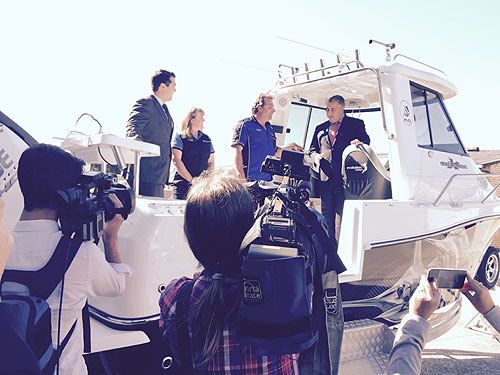 The Federal Treasurer, the Hon Joe Hockey, took time out yesterday from his busy pre-Budget schedule with the Federal Member for Deakin, Micheal Sukkar, to inspect the Evolution Boats manufacturing plant in Bayswater. Mr Hockey met the owners of Evolution Boats, Paul and Melinda Junginger, who built the first boat in their garage just ten years ago and now employ eleven staff.

During his media interview Mr Hockey said he was pleased to visit such a successful small manufacturing business producing a high quality Australian Made product.

The Boating Industry Association of Victoria is the peak body for the marine sector. It represents an industry worth $4.5 billion to the Victorian economy and provides over 17,700 FTE jobs.

Paul Benjamin, President of the Boating Industry Association of Victoria (BIAV) said he was pleased to meet with the Federal Treasurer and have an opportunity to promote the Victorian boating industry's contribution to the economy and employment, including blending the skills from vehicle manufacturing into marine engineering and boat building.

Currently the BIAV is developing a careers guide for the industry to be released in June.

Steven Potts, CEO of the BIAV said, "95% of the of Victorian recreation vessels are trailered, less than 8 metres in length with 68% of registered boats being operated on Port Phillip and Westernport Bays.

"The projected doubling of the population in the central coast area of Victoria, including Port Phillip Bay and Westernport Bay, from 4.6 million to nearly 8 million by 2050, will see a long term expansion of the boating industry.

"Access to water underpins considerable economic opportunities for Victoria that are being generated by the boating industry including boat building, maintenance, repairs, storage, moorings, and boating destination tourism."

A Roy Morgan research poll in 2014 showed 86% of Victorian boat owners plan on taking a trip in the next twelve months.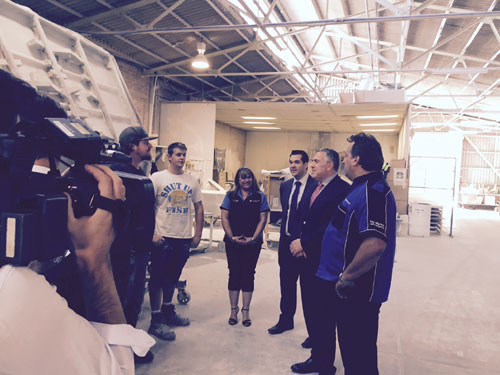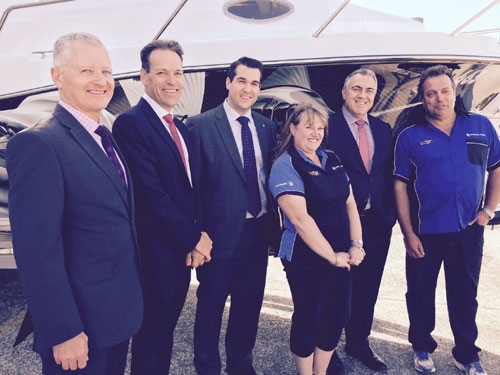 Left: Paul Benjamin, President BIAV; Steven Potts, CEO BIAV; Micheal Sukkar, Federal Member for Deakin;
Melinda Junginger; the Hon Joe Hockey, Federal Treasurer and Paul Junginger.
Media Enquiries:
Ron Smith, Corporate Media Communications, BIAV - Mobile: 0417 329 201