Media Release
Monday, 13 October 2014 08:27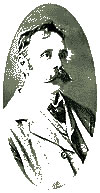 Walter Withers
On stage at the commemoration, which coincides with the 99th anniversary of the first ANZAC Day March held in Adelaide, will be Walter Withers' granddaughter, Mary Owen, and grandson John Withers.
Andrew Mackenzie OAM, Art Historian and Biographer of Walter Withers, will outline the contribution of Walter Withers to the Victorian Artists Society, his contribution to Australian Art and his role as an educator. He was an art master at the Presbyterian Ladies College, Melbourne Grammar, Ruyton Girls School, and Emma Bartlet Cook's Private Girls School, which is now known as Tintern Church of England Girls Grammar School.
An exhibition, curated by Andrew Mackenzie, will feature the artist's three legged painting stool, his paint box, brushes, palette knives, a copy of his original teacher's registration certificate and a number of never seen before photos, including Walter Withers teaching at the Presbyterian Ladies College at its Albert Street, East Melbourne location - now the site of Dallas Brooks Hall.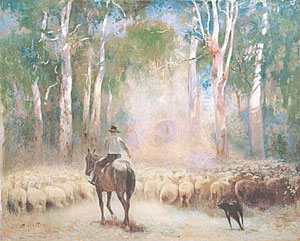 Walter Withers The Drover 1912
Collection: Bendigo Art Gallery
Andrew Mackenzie said, with the commemoration falling on the 99th Anniversary of the first ANZAC Day, it is fitting to focus on one of Walter Withers most famous paintings, 'The Drover', which is linked to the first World War and now hangs in the Bendigo Art Gallery.
For the first time the identity of the Drover, Mr Capewell a butcher from Eltham, who at the age of 42 enlisted as a member of the Light Horse Brigade in 1915, will be made public.

Four descendants of the Drover, including his granddaughter, will attend to release photos of the Drover in full military dress. Mr Mackenzie said, "The Victorian Artists Society also housed the Dame Nellie Melba Conservatorium from 1900 to 1973, and during the first World War "Nellie" toured, singing to the troops and also holding concerts to raise funds for their care."
Eileen Mackley, President of the Victorian Artists Society said, we feel that it is fitting on this special occasion at the Victorian Artists Society, the voice of Dame Nellie Melba should again fill the galleries at the Victorian Artists Society to recognise the 99th Anniversary of the first ANZAC Day together with Walter Withers and the Drover's, place in history.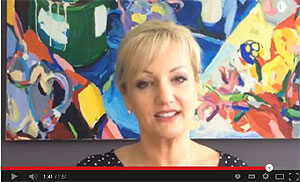 The Hon. Heidi Victoria MP, Victorian Minister for the Arts
speaking about Walter Withers on YouTube.
Click here for the interview.
Media Event
12.15pm Monday 13 October 2014
Victorian Artists Society
430 Albert Street East Melbourne
Opposite St Patrick's Cathedral

Media Enquiries
Ron Smith, Director, Media Communications, Victorian Artists Society - Mobile: 0417 329 201