Media Release
Monday, 22 September 2014 14:11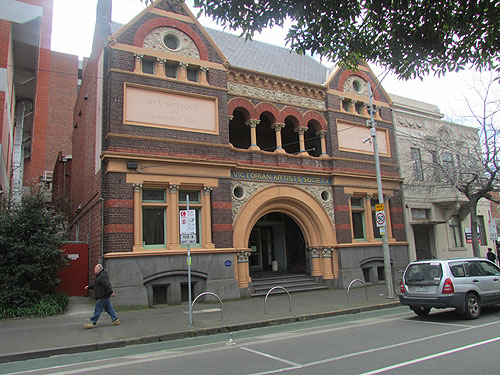 The Victorian Artists Society in East Melbourne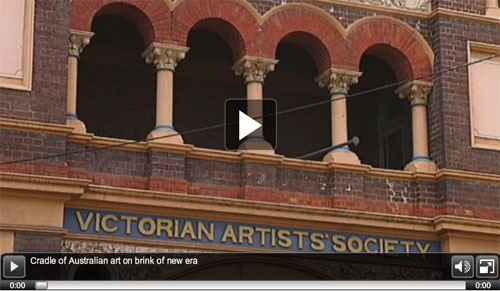 ABC TV 7.30 19/09/2014
"Cradle of Australian art on brink of new era"
Click the link to view
http://www.abc.net.au/news/2014-09-19/cradle-of-australian-art-on-brink-of-new-era/5757294
An estimated $200,000 is needed to restore the building and remove inappropriate renovations of the 1970s, to ensure the building maintains its architectural integrity and social fabric as the foundation stone of Melbourne's arts history.
The Victorian Artists Society is a community facility on public land run by a not-for-profit organisation for the purpose of supporting artists through training and exhibiting works.
Eileen Markley, President of the Victorian Artists Society said the building is on the Register of the Historic Buildings Council and listed with the National Trust of Victoria.
The Victorian Artists Society building was designed by Richard Speight Jnr., who won the competition for its design. The building incorporated the original studio built by Corben and Stuart for the Victorian Academy of Arts in 1874.
The winning tender was submitted by William Massey and the building completed in 1892.
Ms Markley said, "the Victorian Artists School and Gallery was also home to the Dame Nellie Melba Music Conservatory, which was located at the Victorian Artists Society from 1901 to 1975 following a break with Melbourne University. Dame Nellie often sang to the people in the street from the second floor balcony.
The Victorian Artists Society is continuing its role in teaching and encouraging artists of all ages. The Society has over 450 members and an active teaching program that is increasing with the expanding population of Melbourne.
An Open Day is planned at the Victorian Artists Society on Sunday 9 November 2014 - the kick off day for the fundraising campaign.
Media Enquiries:
Ron Smith, Director, Victorian Artists Society - Mobile: 0417 329 201