Media Release
Wednesday, 06 August 2014 11:48
Eileen Mackley, President of the Victorian Artists Society, said the Society is encouraging people of all ages to take up painting, drawing and sculpture as a life interest to keep active socially and mentally as both a creative and healthy past time.
"Melbourne has a rich fabric of subjects for artists from its iconic historic buildings, landscapes in the gardens, along the Yarra River and its nooks and crannies of small laneways, cafe's and the famous streetscapes in Collins Street.
"In the past artists were a common sight within the city painting and drawing, and this is a theme and activity the Victorian Artists Society continues to support with its paint out program. Whilst formed in 1870, the Victorian Artists Society maintains an active painting and drawing schedule for artists including outdoor painting where artists can paint and share their creative activity in a group.
Ms Mackley said with the increasing number of people moving into the Melbourne CBD, ranging from young professionals to retirees downsizing, art in all forms of painting and drawing provides people with an opportunity to revisit a pleasant and rewarding creative past time.
The Victorian Artists Society maintains the spirit and culture of being an Artist's Club with a strong commitment to exhibitions, social events and to remain a centre of teaching and learning.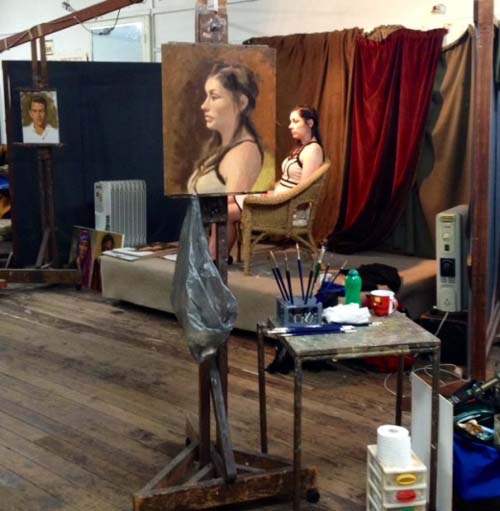 The Victorian Artists Society original Art Room built in 1870
"Our painting classes cater to art students at all levels over a wide range of mediums including: Oil, Pastel, Watercolour, Acrylic and Gouache. Lessons cover a range of Drawing Technique, Portraiture and Landscape."
The Spring Exhibition, featuring over fifty artists, will open on Tuesday 19 August 2014 and will see all three galleries filled with over one hundred paintings, watercolours and drawings.

From Williamstown by Michael Polke


The Victorian Artists Society Gallery
"Paint outs such as those held by some of the Victorian Artists Society founders, including Tom Roberts and Arthur Streeton on the banks of the Yarra at Heidelberg, leading to the Heidelberg School painting movement, is still a popular activity of artists today, one hundred and forty five years later.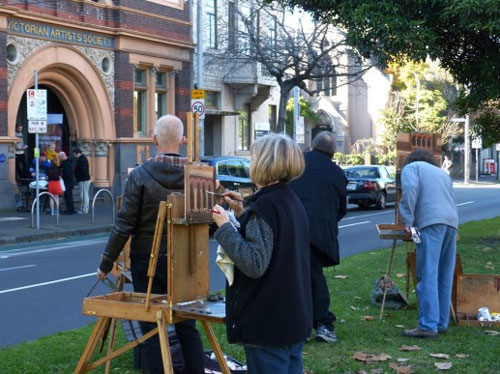 A paint out at the Victorian Artists Society historic building in Albert Street, East Melbourne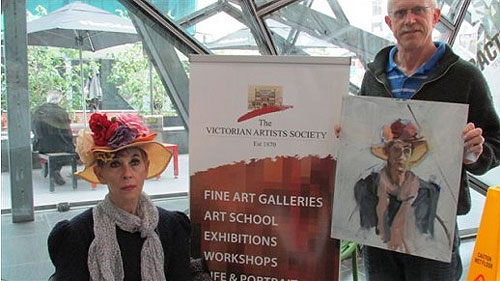 Portrait paint out at Federation Square
About the Victorian Artists Society
Formed in 1870 by a small group of artists and lay persons, the Victorian Artists Society has played and continues to play a pivotal role in art in Victoria and Australia based on a rich foundation of master artists such as Louis Buvelot, Sir Arthur Streeton, Tom Roberts, Charles Conder, Frederick McCubbin, Walter Withers, William Frater, Max Meldrum and Sir William Dargie.
http://victorianartistssociety.com.au/

Details for Art Classes

Media Enquiries:
Ron Smith, Media Communications - Victorian Artists Society Mobile: 0417 329 201