Media Release
Tuesday, 08 July 2014 12:43
Conference Starts Today
34th World Congress of the International Society for Education Through Art
Diversity through Art - Change, Continuity, Context
The Victorian Minister for the Arts, the Hon. Heidi Victoria today welcomed over 500 Art Educators from around the world to the 34th World Congress of the International Society for Education Through Art.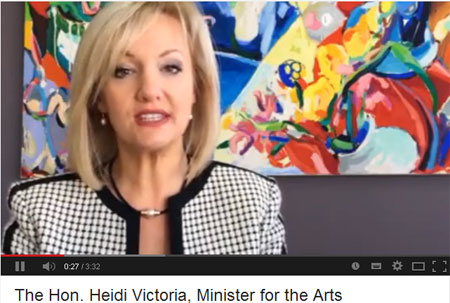 Click here for the Minister's welcome address
The 2014 Congress is organised to ensure its relevance for public and private educators and representatives from state, national and private galleries, art collectors and philanthropists to the Arts, along with the wider public audience.
Recent decades have seen the greatest transition in visual culture in history: the art object to the idea, the static to the ephemeral, Euro/American aesthetic ideals to exciting affirmations of nationally based visual cultures and especially the renewed appreciation of Indigenous art forms.
The global movements of refugees and migration have changed the cultural mix in societies providing the visual arts and visual arts education with both challenges and opportunities.
Leading art education speakers include: Dennis Atkinson, currently Director of the Research Centre for The Arts and Learning in the Department of Educational Studies at Goldsmiths University of London; Ian Brown, an Associate Professor and Dean in the Faculty of Education at the University of Wollongong; Maree Clarke, a Mutti Mutti, Yorta Yorta, BoonWrung woman from northwest Victoria, and Alison Carroll, Immediate past Director of Asialink at The University of Melbourne.
Media Enquiries:
Ron Smith, Corporate Media Communications - Mobile: 0417 329 201