Media Release
Friday, 07 March 2014 13:37
Fed Square - Australian Institute of Architects
International Women's Day Women
Architects Feature in Fed Square Time Capsule
Women urged to tell their stories .....
Federation Story - the digital time capsule of Federation Square - will be used to build a permanent digital collection of the personal stories of 'The Architects of Victoria' to create a record of achievements and reflections of life in contemporary Victoria for future generations.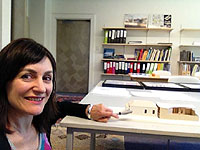 Architect Fiona Winzar
Fed Story Architects of Victoria
Jane Sydenham-Clarke from Fed Square, who spoke this morning at the International Women's Day Breakfast for the Australian Institute of Architects Victorian Chapter, said personal story telling is one of the most powerful and productive ways individually and collectively to communicate across mainstream and social media.
"Federation Square, with over ten million visitors a year, is seen locally and internationally as a great story teller of Victorian and Australian contemporary life though it's Big Screen, digital publishing and hundreds of events each year.
"Through Federation Story we are building an online portal that provides a history of personal stories of architects who have made a major contribution to Victoria through the design, renovation and redevelopment of buildings, including those with heritage and historic significance.
"The Federation Story digital time capsule provides a unique opportunity for all members of the Institute to record their personal stories and reflections of their work in Victoria, for example, with a summary of their vision for a specific project, when it was commissioned and how it was completed."
Ms. Sydenham-Clarke said, "The scope of architectural design would cover architects work in metropolitan, suburban, regional and country locations with projects large and small, ranging from commercial buildings to the design of a family home."
Federation Story is an ongoing project that is actively promoted as a major educational and social media resource that can bridge the information gap locally, nationally and internationally with its personal focus and provides the opportunity for people to upload their own stories and images.
Peter Malatt, incoming President of the Victorian Chapter of the Australian Institute of Architects welcomed 'The Architects of Victoria' project in partnership with Fed Square, saying that it provides the profession and individual architects with an opportunity to promote the contribution made by architects to the quality of life in Victoria through innovative building design.
"The theme of The Architects of Victoria being based around personal reflections and comment will provide a rich tapestry of views, design and categories of buildings," Mr. Malatt said.
Media Enquiries:
Ron Smith, Corporate Media Communications, Fed Square - Mobile: 0417 329 201