Media Release
Wednesday, 15 January 2014 10:26
Fed Square and Kirra Galleries
A new Australian and New Zealand Glass Art Award by Kirra Galleries and Fed Square will become a feature of the multi-award winning Fed Square
Light in Winter
program in 2014.
The program brings together local and international artists, designers and multicultural communities with a series of light-based artworks, community events and forums and a mid-winter Solstice Celebration.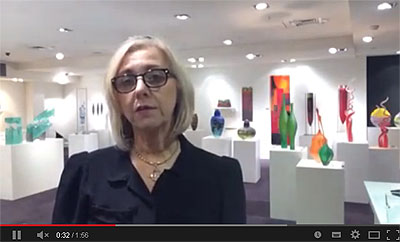 Jane Sydenham-Clarke from Fed Square speaking the KIGA Award on YouTube.
Click here for the YouTube interview.
Announcing the inaugural Kirra Illuminating Glass Award (KIGA), Peter Kolliner OAM, Gallery Director of Kirra Galleries said, "The KIGA first prize is AU$15,000 and will be awarded for the best internally lit glass sculpture on Tuesday 3 June 2014 at the opening of Kirra Galleries 20104 Light in Winter exhibition."
The winner along with shortlisted entries will be exhibited as part of Fed Square's The Light in Winter program from 3-30 June 2014. To engage the community and provide wider exposure for illuminating glass art, a People's Choice Award Trophy will also be announced on 17 June 2013.
The new award will be judged by Ms Robyn Archer AO, Ms Kate Brennan, Dr Grace Cochrane AM, Dr Matthew Martin and Mr Peter Kolliner OAM.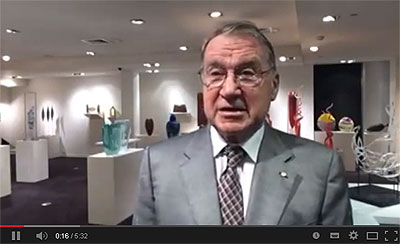 Peter Kolliner of Kirra Galleries announces details of the KIGA Award on YouTube.
Click here for the YouTube interview
Mr. Kolliner said, "Kirra Galleries, the first commercial tenant of Fed Square, celebrated its 100th exhibition of Australian Glass Artists at Fed Square earlier this year. We see the KIGA Award as a milestone for Kirra Galleries ongoing promotion of Australian Glass Art, both in Australia and overseas.
For several years Kirra Galleries has participated in the Light in Winter program with Fed Square through an annual Light in Winter Exhibition featuring illuminating Glass Art. The KIGA award will lift the profile of the 2014 exhibition and we expect a wide selection of works to be submitted."
For a decade Kirra Galleries has also promoted Australian Contemporary Glass Artists internationally, taking the work of some forty artists to the renowned Sculpture Objects and Functional Art (SOFA) exhibition in the United States.
Mr. Kolliner said, "Kirra Galleries attendance at SOFA Chicago has resulted in many of our emerging artists gaining recognition from international collectors and galleries."
Key Dates

Artists to submit an expression of interest by 10 February 2014.
The winner is to be announced at the opening of the Light in Winter exhibition on 3 June 2014 at the exhibition opening which will run until Sunday 30 June 2014.
A Peoples' Choice Award Trophy will be awarded 17 June 2014.

Media Enquiries:
Ron Smith, Corporate Media Communications, Fed Square - Mobile: 0417 329 201