Media Release
Monday, 30 September 2013 15:40
Joining the State Coroner were a number of key stakeholders in water safety, together with Josie Costanzo. Josie's son Justin, drowned some 13 years ago in a neighbour's pool after the pool gate was propped open.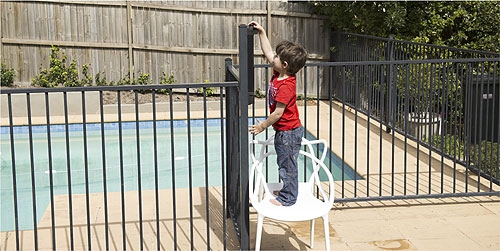 The campaign calls on pool owners to check their pool barriers and gates at the beginning of daylight savings on 6 October 2013. The key safety messages for the campaign are:
This daylight saving, make sure an hour is all you lose; and
Check the safety of your pool fence before your child does
The messages will be spread predominantly online, using social media.
Drowning is one of the leading causes of death for Australian children under 5 years of age. Statistics released today from Life Saving Victoria show that during the 12 month period from July 2012 - June 2013, 3 Victorian children aged 0-4 years drowned in backyard swimming pools.
The campaign, headed by Kidsafe Victoria and involving a wide range of community safety organisations, industry groups and local councils, is aimed at having all pool owners check and maintain their pool fences and gates at the start daylight savings on Sunday 6 October, in the lead up to the summer months.
Robert Caulfield, President of Kidsafe Victoria said, "Studies have shown pool fencing, particularly isolation fencing, to be effective in reducing the risk of drowning. However, evidence suggests that a large number of child drowning incidents occur as a result of pool fencing that is faulty or non-compliant with Australian Standards".
"The tragedy of a drowning incident can have a lifetime impact on family and friends. For every drowning death involving a child aged 0-4 in Victoria there are a further 10 non-fatal incidents, many which result in a child receiving permanent brain damage."
"Children drown quickly and quietly and we urge all parents with pools or visiting homes with pools or spas to make sure they maintain constant supervision of their children around water."
All pool and spa fencing will experience exposure to extremes of weather and wear and tear over time including rust, missing bolts or screws and damage. Therefore it is important that it is regularly checked and maintained.
The campaign calls for all pool and spa owners to visit
www.kidsafevic.com.au
and utilise the pool and spa area checking tool, developed by Life Saving Victoria. This includes common faults/non-compliance issues such as:
Gates that don't self-latch or self-close.
Climbable objects in the 'non climbable' zone outlined in the Australian Standards (e.g. pot plants, chairs, pool pumps near the pool fencing which could allow a child to climb over the fence).
Excess space under the fence, and;
Misuse (e.g. propping the pool gate open).
The campaign forms part of the Victorian 'Play it Safe by the Water Campaign' and is supported by the following partners:
Kidsafe Victoria
Lifesaving Victoria (LSV)
Ambulance Victoria
AIBS
City of Whittlesea Building Surveyor
City of Melbourne Building Surveyor
Department of Justice
Aquatics and Recreation Victoria
Master Plumbers Association
City of Greater Dandenong
Building Regulation Advisory Committee (BRAC)
Real Estate Institute of Victoria
Consumer Affairs Victoria
Victorian Municipal Building Surveyor Group (VMBSG)
Victorian Building Authority (VBA)
Media Enquiries:
Ron Smith, Corporate Media Communications, Kidsafe Victoria - Mobile: 0417 329 201