Media Release
Clubs Approve Merger to Create World Class Bowls Facility Club at Geelong Golf Club Residential Estate
Thursday, 01 May 2014 17:35
Geelong Golf Club Residential Estate
Two of Geelong's long standing lawn bowls clubs - Geelong West and Drumcondra, have formally approved the merger of the two clubs to create the City of Geelong Bowls Club.
The deal will involve their relocation to a $8.15 million state of the art world class indoor/outdoor multi rink bowls facility at the premier Geelong Golf Club Residential Estate in North Geelong.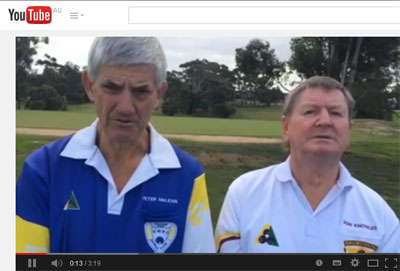 Left: Peter McLean, President of Geelong West Bowls Club with
Don Knowles, Vice President of Drumcondra Bowls Club
talk about the planned new bowls facility on YouTube.
It is envisaged that the construction works will be completed by September 2015 to facilitate the new Club's participation in the 2015-16 pennant competition.
With a great deal of anticipation, members of both Clubs met at the Captain's Room at Simonds Stadium earlier this week to consider a proposal that has been diligently worked on over the past few months by a delegation of Committee members representing both Clubs.
Local identity and principal of Gartland Real Estate, Bob Gartland, who assisted in facilitating the arrangement between the Clubs and the Developer of the Geelong Golf Club Residential Estate said, "Having reviewed the approved plan for the central core facilities of the Golf Club project, we recognised a huge opportunity to bring the parties together with a view of creating something quite iconic for the benefit of all parties and the broader local Geelong community."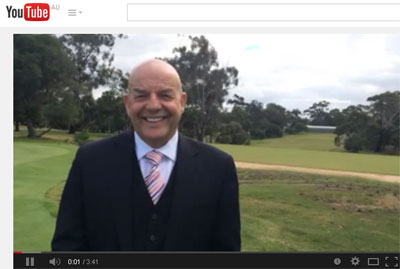 Bob Gartland, principal of Gartland Real Estate
talks about the benefits of the project to Geelong on YouTube.
Peter McLean, President of Geelong West Bowls Club, expressed his delight, saying "We are absolutely thrilled that the members of Drumcondra and Geelong West Bowls Clubs have formally approved our recommendation to merge and relocate in what is sure to be a magnificent facility which the entire Geelong community will be welcome to visit and enjoy upon completion late next year."
The newly created Bowls Club will ultimately comprise:
- A new purpose built clubhouse including office and food and beverage facilities;
- Two undercover bowling rinks;
- Grandstand seating;
- Two outdoor bowling rinks;
- A 200 plus lot car park;
- Land to accommodate a future outdoor bowling rink; and
- Two separate land parcels available to accommodate future expansion.
Hugh McPherson, Secretary of Drumcondra Bowls Club, is excited with the prospect of not only expanding the current member base but also encouraging the uninitiated to the enjoyable past time of lawn bowls.
"We are hoping to attract people who have never played lawn bowls before.
"They will be able to be taught how to bowl in a relaxed and friendly manner, and then can enjoy a wine and meal at the Clubhouse.
"It will be great fun and hopefully from that we will further increase our membership base and strengthen our pennant participation."
To bring effect to the plan, both Clubs will shortly embark on the sale of their Club Assets including their Land.

Ron Smith, spokesperson for Links Living, stated "This will complement the magnificent facilities already in place at the Geelong Golf Club Residential Estate, and will provide golfers and residents alike with further recreation and entertainment options within the Estate."
It is envisaged that the necessary planning approvals will be in place mid year thereby facilitating commencement of the construction works immediately thereafter.
Media Enquiries:
Ron Smith, Corporate Media Communications, Links Living - Mobile: 0417 329 201