Media Release
Friday, 08 November 2013 15:33
Geelong Golf Club Residential Estate
Legacy of Memorial Lone Pine Tree Restored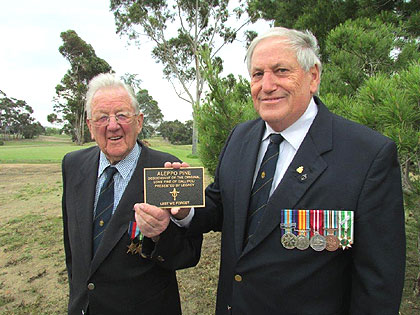 Left: Orm Bottomley and John Burton from Geelong Legacy with the new
plaque to be installed at the Memorial Lone Pine on the Geelong Golf Course.
In the lead up to Remembrance Day on 11 November 2013, two members of Geelong Legacy have taken action to restore the historic significance of a local Memorial Lone Pine Tree to fallen soldiers.
Eighty-nine year-old Orm Bottomley, who originally planted the Lone Pine Tree in 1994 at the Geelong Golf Club, returned nearly two decades later to assist in re-installing the new historic plaque to replace the original plaque which was stolen following the closing of the Geelong Golf Club.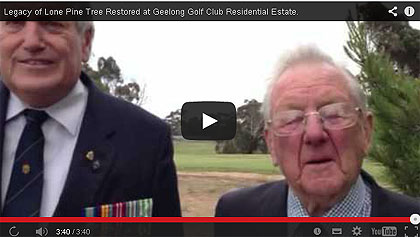 Click here to learn more about the Lone Pine and Legacy on YouTube

The Geelong Legacy Lone Pine is set to become a feature of the new nine hole golf course that is planned to open in late February/ March 2014. The Lone Pine is in a high profile site next the putting green and will be visible from the new clubhouse.
John Burton from Geelong Legacy, who was also present at the original planting, said the preservation of the tree and return of the plaque marked a special milestone for the five metre Lone Pine Tree and would be welcomed by the Geelong community and members of Legacy.
Legacy continues to assist the widows and families of the men and women who have died in war. Geelong Legacy still supports 1600 widows, 6 children and 14 people with special needs.
Media Enquiries:
Ron Smith, Geelong Golf Club Residential Estate - Mobile: 0417 329