Media Release
Wednesday, 02 April 2014 16:23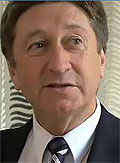 Robert Caulfield Managing Director Homesafe Group
Robert Caulfield, Managing Director of Homesafe Group said, "Every deck or balcony when built should display a simple safety load level in a form home owners can understand and such information should be included in the sale documents of all properties, both residential and commercial.
"People selling homes with decks or balconies would have them professionally independently inspected and have the safe load level recorded in the sale documents for the incoming new home owners. This would continually upgrade the standards of decks and balconies in Australia and increase safety."
Mr. Caulfield said that whilst the dangers of backyard pools have become well known and are subject to a regime of safety regulations, the safety of decks and balconies has largely flown under the radar.
"People buying or renting homes should ensure they have the condition of the deck or balcony assessed in the interest of their safety before they move in.
"The ongoing deaths and serious injuries, usually reported around Christmas and New Year when large groups of people assemble on domestic decks or balconies for celebrations continue year after year."
Mr. Caulfield said the problem for many home owners and investors who rent out homes is that they fail to see the legal ramifications and massive costs which can follow a balcony or deck collapse that can result in serious injury and in some cases death.
"People should be constantly monitoring the condition of their decks and balconies and at any sign of deterioration should immediately have it repaired.
"Underlying the danger is the presence of rotting timber, poor construction, lack of maintenance and a combination of harsh climates and the impact of salt, especially on decks or balconies built on the coast."
Mr. Caulfield said that the Homesafe Group specialises in designing a safe home or safe renovations for seniors and families with babies or young children, and places the deck and balcony as a hot spot for potentially serious injury.
Media Enquiries:
Ron Smith, Corporate Media Communications - Mobile: 0417 329 201