Media Release
Thursday, 16 May 2013 10:57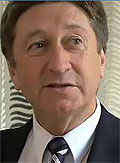 Robert Caulfield 
Home buyers in the future will pay premium prices for properties designed to reduce preventable injuries in the home because of the demand by Australia's ageing population, who have a strong desire to remain in their own home, a leading architect said today.
Architect, Robert Caulfield, Homesafe Group Managing Director said, "In the future people purchasing a home may look for a safety rating, similar to the vehicle safety ratings which have played a major role in reducing Australia's road toll.
"In Australia it is compulsory to build homes with an energy rating. With Australia's population ageing rapidly and the growing massive cost on the national health budget, attention needs to be given to the concept of national home safety program standards.
"With the exclusion of over 65's from the National Disability Insurance Scheme, home safety design standards could be one of the positive government strategies to help protect the increasing number of older Australians from injury in the home."
Mr. Caulfield said that Home and Renovation Safety Design in the future will also become a major marketing tool for selling homes through a greater awareness of its importance to personal safety in the home and for anyone renovating a home to include safety.
A recently released report from the Australian Institute of Health and Welfare, shows that deaths from falls of people over 75 is more than the national road toll, with 83,000 people over the age of 65 attended hospital due to a fall in 2009/ 2010, spending on average 15.5 days in hospital.
The home is the most likely location for a fall, accounting for 49 per cent of cases, according to the Australian Institute of Health and Welfare.
Mr. Caulfield said that on a financial level, the cost of accidents in the home has a substantial impact on hospital budgets and also on the victims themselves,which can lead to the loss of independence. Many are forced to leave their homes following a fall because the injuries are so severe.
"With around 13.5 per cent of the population are currently aged 65 and over, and by 2050 this age group will make up almost 23 per cent of the population*, there is a need for the Federal Government with the States to put Home Safety Design ratings on the national agenda."
Mr. Caulfield said, "Home safety design does not add cost nor does it compromise design integrity, but it can save lives - there is no worse situation than seeing your loved ones injured in your own home, later realising that it could have been prevented."
On average falls killed four people a day over the age of 75 in 2011 with trend to increase.*
* Source: Australian Bureau of Statistics
Media Enquiries:
Ron Smith, Media Communications, Homesafe Group - Mobile: 0417 329 201