Media Release
Monday, 01 April 2013 10:04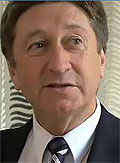 Robert Caulfield 
The speculation over the Federal Government's proposed move to retrospectively change superannuation rules to cover its May Budget blow outs will spark a home renovation surge.

Architect Robert Caulfield, Managing Director of the Homesafe Group today said, "Any move by the Federal Government grab for cash from super funds of older Australians who have followed the rules, dramatically highlights investment in the family home through renovation as a safer way to build a nest egg."
"People want to invest with certainty for their retirement and the family home has just become far more certain than government regulated superannuation."
Mr Caulfield said, "With reports that around a million Australians could be affected if the tax threshold is lowered from people earning $300,000 to $180,000 by the current Federal Government in the lead up to the May Budget, this will place all Australians in even lower tax brackets thinking about their superannuation arrangements."
"Renovating for retirement also provides Australians with the use of their money rather than having it invested in a superannuation fund where the Federal Government, no matter who is in power, can change the rules."
The Homesafe Group, formed by a consortium of Architects, has established a special Senior's division which focuses on renovation design to add safety to the home and ensure the design also adds value to assist in building capital gain in the property to help fund retirement.
Mr. Caulfield said we are designing renovations that support the Government policy in keeping people in their own homes by creating independent living areas, which can allow people to rent out part of their home if they need a smaller living space and help fund their retirement.
"Financial safety is also vital for anyone building their retirement nest egg through renovation to ensure they maximise their profit when the family home is sold by avoiding the 'renovation money traps' such as undertaking a poorly designed renovation, failing to keep costs under control, not getting competitive quotes or causing budget blow outs by changing the building design during construction."
Homesafe has released a Free special cost guide on its website to help people renovating for retirement to calculate the cost of renovation as a way of preventing them getting ripped off by unknowingly accepting excessive quotes. It is available at http://www.homesafegroup.com.au/overview/
Media Enquiries:
Ron Smith, Media Communications, Homesafe Group - Mobile: 0417 329 201

The Homesafe Group
The Homesafe Group of companies was established to improve the quality of life of Australian families through home safety, good design and wise investment.
It was founded by a group of architects and safety professionals and utilises the skills of Australia's foremost experts in architectural design, home safety and building technology.
Home safety research and development is undertaken in conjunction with Kidsafe and Monash University Accident Research Centre.