Media Release
Thursday, 28 March 2013 09:49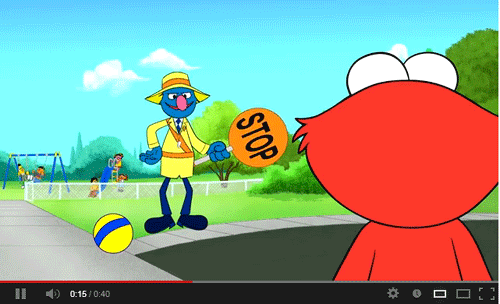 'Elmo Stays Safe' Road Safety Campaign on YouTube - 
The campaign will target pedestrian and driveway incidents, major causes of serious injury and death in young children, as part of the UN's Decade of Action for Road Safety.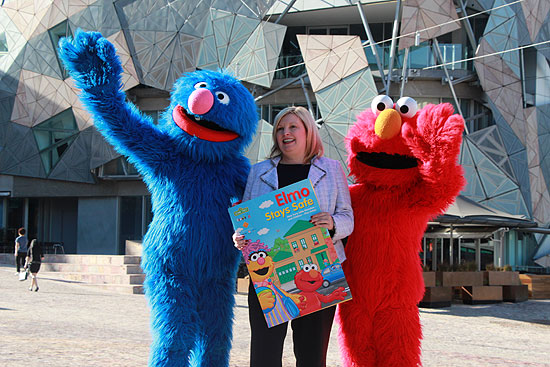 Grover and Elmo help the Victorian Minister for Children and Early Childhood Development, the Hon Wendy Lovell,
launch the 'Elmo Stays Safe' road safety campaign at Federation Square.


In the three year period from 2006-2008, there were 6 deaths and 430 seriously injured pedestrians aged 0-14 years in Victoria. A further 14 children under six years of age were killed and 73 were seriously injured as a result of a driveway run over between January 2000 and September 2012.
The campaign, developed by partners Sesame Workshop (the nonprofit educational organisation behind Sesame Street), Kidsafe, the TAC, RACV and Holden, will initially be delivered to Family Day Care Services throughout Victoria, with a view to a national roll out.
Robert Caulfield, President of Kidsafe Victoria said "Kidsafe is pleased that the campaign is live online and provides learning resources for children and parents to download for free."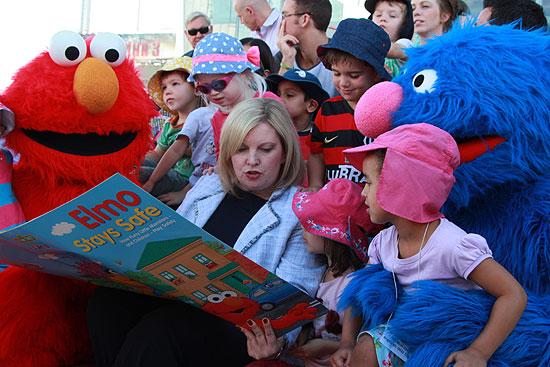 Minister Lovell reading to the children from QV Early Learning Centre with Elmo and Grover.
How can you join the 'Elmo Stays Safe' campaign?
Mr Caulfield said government agencies, Members of Parliament, Local Councils, early childhood services and media outlets could link to the Kidsafe website at www.kidsafevic.com.au and promote road safety with the help of Elmo and Grover.
Action to take
Put a link on your website or in your newsletter to the 'Elmo Stays Safe' Campaign
Promote the link through your twitter account - you can even retweet auskidsafe, Kidsafe's national account.
Follow the Kidsafe Victoria Facebook page at http://www.facebook.com/pages/Kidsafe-Victoria/275073395945219 and share the campaign to your contacts.
Alert friends and family to the campaign with an email with the link www.kidsafevic.com.au

Resources can be downloaded at www.kidsafevic.com.au and www.sesameworkshop.org and the CSA can be viewed on Sesame Street's YouTube Channel.
Children from the QV Early Learning Centre along with Grover and Elmo and guests at the launch.
Minister Lovell said,"The innovative and unique campaign led by Grover, a Road Safety Ambassador as part of the UN's Decade of Action for Road Safety, and the lovable monster Elmo, not only relates to children but also to many parents who have grown up with Sesame Street over the past forty three years."
Sesame Workshop's Senior Vice-President of International Projects, Robert Knezevic says, "Sesame Workshop is the single largest informal educator of children in the world and has a long history of creating educational media and public service campaigns. By combining the beloved Muppet characters, who are immediately recognisable as symbols for childhood learning, and the expertise of local partners, this road safety program has been developed specifically for the needs of young Australian road users."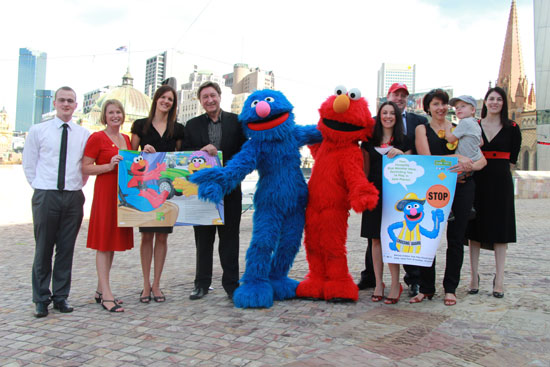 Project partners: Jason Chambers (Kidsafe Project Manager), Liz Waller (TAC Major Projects Manager, Road Safety), Melanie Courtney (Kidsafe Executive Officer),
Robert Caulfield (Kidsafe President), Melinda Congui (RACV Manager, Road User Behaviour), Matt Hobbs (Holden, Director of Government Relations and Corporate Affairs),
Maya Donevska (Holden Community Relations Manager) and Tamara Jenkins (Sesame Street publicist) at the launch with Grover and Elmo.
The program's messages will be delivered to children via a classroom based storybook entitled 'Elmo Stays Safe. How Furry Little Monsters - and Children - Play Safely' with supporting activity cards, posters and stickers, together with downloadable activity sheets.
The 'Elmo Stays Safe. How Furry Little Monsters - and Children - Play Safely' storybook follows the journey of Elmo and his Mum as they make their way safely to the playground.
Specifically, it demonstrates the importance of:
- Safe pedestrian practices such as holding an adult's hand while crossing the road
- Playing in safe areas, and treating driveways and car parks like the road
- Safe car travel for children (using correct restraints, getting in and out of the vehicle via the safety door)
- Parents and caregivers modeling safe and appropriate behaviours, like always wearing seat belts themselves.


Proudly supported by




Photography by Georgia Baynes-Smith

Media Enquiries:
Ron Smith, Kidsafe Media Communications - Mobile: 0417 329 201