Media Release
Wednesday, 28 November 2012 12:47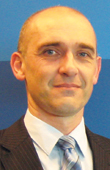 Colin Keane
Director  
Research Four
Colin Keane, Director of Research Four and the National Land Survey, who spoke at the Urban Development Institute of Australia's Research Breakfast this morning said, "The current slump in form for the Melbourne Greenfield market has not been helped by a rise in the number of blocks of land being handed back to developers".
"Over the past 12 months the cancellation rate has averaged twenty three percent of monthly activity."
The current level of cancellations is put into perspective when during the property boom (June 2009 - December 2010) the cancellation rate averaged only four percent of monthly activity.
Mr. Keane said, "The dramatic increase in lots being returned to developers highlights the pressure the Melbourne new home building industry is currently under".
"Builders are unable to carry or sell on vacant land at the level which they experienced during the property boom. This situation has not been helped by a shift of first home buyer demand back to established property over new house and land."
Cancellation rates are highest in the west and north of Melbourne with the south east having notably lower level of cancellations relative to lot sales.
This situation could market the beginning of a more conservative relationship between builder and developer as both struggle with lifting activity, Mr. Keane said.
Media Enquiries:
Ron Smith UDIA (VIC) Corporate Media Communications - Mobile: 0417 329 201