Media Release
Wednesday, 17 October 2012 08:46
International and local visitors to Melbourne, acknowledged as having one of the highest qualities of drinking water in world, will be able to use their mobile phones to locate thousands of drinking water fountains from today
 

A new smart phone App "Choose Tap," developed by Yarra Valley Water

which services more than 1.7 million people and 50,000 businesses, went live when it was launched at the Ride2Work breakfast at Federation Square this morning.
Yarra Valley Water Managing Director Tony Kelly, said "The "Choose Tap" App could save people hundreds of dollars a year allowing people to refill their water bottles for free instead of paying more than $3.00 a bottle for packaged water".
"Our research indicates that people often drink bottled water due to a lack of access to tap water. The "Choose Tap" app means customers can find their nearest drinking water fountain when they're out and about, saving the need to purchase expensive bottled water or other drinks, and reducing the amount of plastic bottles ending up in landfill or polluting the local environment".
"Over half of all PET bottles end up in landfill or as litter, so we encourage people to top up with tap water using reusable drink bottles cutting waste."
Yarra Valley Water has added data to the app on water fountains in all municipalities within its service area and has made provision for the program to expand throughout Melbourne.
The new Choose Tap App has the capacity to expand nationally to every capital city with councils and the community being able to add data.
Yarra Valley Water staff gave away 1,000 reusable drink bottles at the Melbourne Ride2Work event, encouraging participants to choose tap water as their drink of choice to stay hydrated when exercising.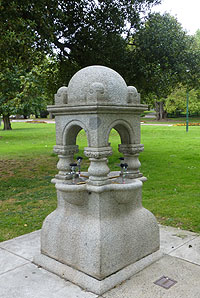 Drinking fountain in Queen Victoria Gardens, Melbourne
The latest Roy Morgan Research Non-Alcoholic Drinks Survey found the number of Australians drinking bottled water has fallen from 26 per cent in 2007 to 23 per cent in 2011.
The report found its younger groups that are leading the say no to bottled water charge - the largest declines have come from the 25 to 34 year age group (36 per cent in 2007, to 29 per cent in 2011), and the 14-25 year age group (35 per cent in 2007, down to 31 per cent in 2011).*
* Source: Hospitality Magazine 23 April 2012

Click here to download the Choose Tap App

Media Enquiries:
Ron Smith, Corporate Media Communications - Mobile: 0417 329 201