Media Release
Tuesday, 02 October 2012 14:53
Geelong Golf Club Residential Estate and NBN Co
Developer Links Living announced today that residents in the Geelong Golf Club Residential Estate will be among the first in Australia to enjoy the benefits of superfast broadband via the National Broadband Network (NBN).
Construction of the fibre network is due to be completed at the Geelong Golf Club Residential Estate as residents begin moving into their new homes later next year.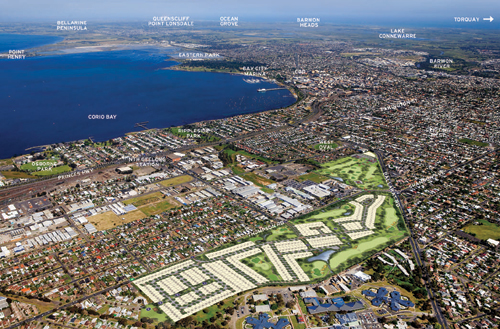 Aerial image of the Geelong Golf Club Residential Estate
Under the NBN new developments scheme, projects of 100 or more lots or units that were approved after 1 January 2011 can have access to the NBN if the developer contracts with NBN Co to supply the necessary underground infrastructure.
The new 45 hectare development is the first infill site in Geelong to be connected to the NBN. Overlooking the golf course, it comprises 320 modern homes, located only a few minutes from the centre of Geelong.
Joe Cannatelli, NBN Co Manager Developer Territory for Victoria said, "The NBN is a vital national infrastructure project that will deliver better communications and improve the lives of all Australians.
"We're very pleased that residents due to move into the Geelong Golf Club Residential Estate will be among the first to experience this revolution in telecommunications, which is set to open up greater competition and cheaper prices."
The NBN is Australia's first wholesale-only, open-access, high-speed broadband network. Over the coming decade, NBN Co has a target to connect 93% of homes and businesses to broadband over fibre, with the remainder planned to be served by either fixed wireless or satellite technologies.
Retail prices for NBN plans are comparable to existing ADSL2+ packages but with the prospect of higher speeds and greater capacity.
Ron Smith, spokesman for Links Living said, "The rollout of the NBN into the Geelong Golf Club Residential Estate is set to coincide with residents moving in and is a major boost to the project through the provision of high-speed broadband. The services provided over the NBN have the potential to deliver real benefits to residents in areas like business, education, entertainment and health.
Geelong Golf Club Residential Estate residents will have access to the NBN through optical fibre, which is designed to offer wholesale speeds of up to 100 megabits* per second. By contacting their preferred telephone and internet service provider, they can select a service plan and arrange for their service to be switched on. A list of service providers is available at: www.nbnco.com.au/serviceproviders
Mr. Smith said, "All home owners are scheduled to receive further detailed information in welcome packs when they move in outlining how to connect to the NBN."
The Geelong Golf Club Residential Estate is located close to the new Geelong Bypass with travel time to Melbourne approximately one hour.
"The NBN is set to provide telecommuters moving into the estate with a fast and reliable broadband connection, allowing them to work from home while staying in touch with business colleagues and customers via access to Skype, VoIP and YouTube video streaming,**" Mr Smith said.
Media Enquiries:
Ron Smith, Links Living Media Communications - Mobile: 0417 329 201

* NBN Co is designing the NBN to be capable of delivering these speeds to NBN Co's wholesale customers – telephone and internet service providers (TISPs). Speeds actually achieved by retail customers (end users) will depend on a number of factors including the quality of their equipment and in-premises connection, the broadband plans offered by their TISP and how their TISP designs its network to cater for multiple end users.

** End users will need the right software application supported by a service provider, equipment and in-premises connection to access these services.