Media Release
Tuesday, 24 July 2012 12:26
UDIA (VIC) and Ardoch Youth Foundation
The development industry in Victoria is set to dig in for the 14th year in support of the Ardoch Youth Foundation at its annual Dinner on Friday night at Crown. 

Tony De Domenico Executive Director 
UDIA (VIC)
Tony De Domenico, Executive Director of the Urban Development Institute of Australia (Victoria) said, UDIA Victoria's members have been longstanding supporters of the work of Ardoch Youth Foundation, enabling Ardoch to improve the odds for over 12,000 vulnerable children around Australia each year by helping them get to and succeed in school. Over the last 14 years, UDIA members have raised over $300,000 for Ardoch's work. An Ardoch volunteer working with a student.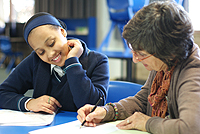 An Ardoch volunteer working with a student.  
Ardoch's specialist staff, together with a network of thousands of trained volunteers and mentors, delivers a range of targeted learning and wellbeing programs at schools and early childhood centres.
Working with children aged 3-18, Ardoch's programs remove barriers to education in three key focus areas:
* Literacy and numeracy
* Student wellbeing
* Early childhood education
Education Support Centres are located in Central Melbourne, Frankston, Geelong, Sunshine and Brisbane, with Ardoch programs also operating in Perth and through the sister organisation, Daystar Foundation, in Sydney.
Chief Executive Officer of Ardoch Youth Foundation Mandy Burns said, "With 12% of Australian children living in poverty, and poverty directly impacting on learning outcomes, the support of the urban development community for Ardoch's work has never mattered more.
Ardoch Youth Foundation's Board, staff and beneficiaries thank UDIA members for their outstanding commitment to supporting our work with disadvantaged children in education."

Media Enquiries:
Ron Smith, Corporate Media Communications, UDIA - Mobile: 0417 329 201