Mullum Creek Development Receives National EnviroDevelopment Certification from the Urban Development Institute of Australia
Thursday, 26 June 2014 17:05
UDIA (VIC) and EnviroDevelopment
The Mullum Creek Development, a 20 hectare project of 56 home-sites in the City of Manningham, has been recognised by the Minister for Environment and Climate Change, the Hon. Ryan Smith MP. The Minister recently presented the EnviroDevelopment certification from the Urban Development Institute of Australia (UDIA) to the Mathews family.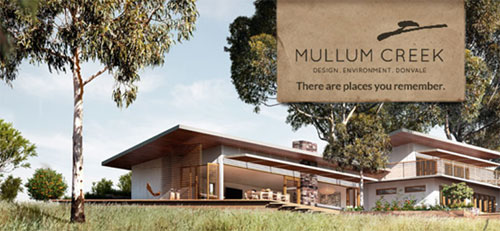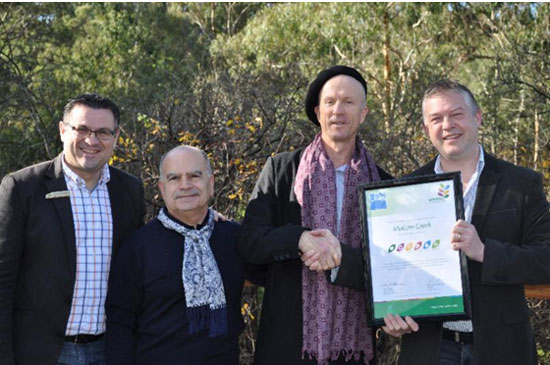 Left: Manningham City Council Mayor, Cr. Jim Grivokostopoulos, Tony De Domenico, Executive Director, UDIA Victoria,
Steve Mathews, owner of the Mullum Creek Development, and the Hon. Ryan Smith, Minister for the Environment and Climate Change, at the official presentation.
The UDIA EnviroDevelopment certification program encourages developers to achieve best practise in sustainability initiatives raising the bar at least 20% over and above the minimum standards on a national platform. Performance based and applicable to a diverse range of developments, EnviroDevelopment covers the broad spectrum of environment and sustainability issues. The elements are: ecosystems, water, energy, waste, materials and community.
EnviroDevelopment recognises environmental and sustainability initiatives for developments around Australia. Only the third and smallest in Victoria to achieve all 6 elements, the estate is set to be a showcase example of what can be done with creative and innovative planning.
In announcing the Mullum Creek Development, Tony De Domenico, Executive Director of UDIA Victoria said, "EnviroDevelopment is a great example of the government and industry working together to benefit the whole community and increase Victoria's liveability by encouraging sustainable development and making it easier for buyers to identify excellence."


Mullum Mullum Creek
BACKGROUND AND HISTORY
Bob and Rivkah Mathews moved their family to Donvale in 1958, reflecting their love of the bush and desire to live in a beautiful rural environment.
The land was mainly open paddocks, with a number of fully grown remnant eucalypts and areas of native bushland, especially along the Mullum Creek. Bob and Rivkah planted an apple orchard next to the house they built, and over time they added adjoining parcels of land to their property.
Changes to planning regulations in 1972 saw the land rezoned from rural to residential. Watching the increasing urban development encroaching on the rural landscape and impacting on the bushland environment, Bob embarked on a plan to coordinate the development of neighbouring properties, with a vision of clusters of homes in a setting of bushland and open spaces.
Click here to read the full background of Mullum Creek.

www.envirodevelopment.com.au

Media Enquiries:
Ron Smith, Corporate Media Communications, UDIA Victoria - Mobile: 0417 329 201