Tuesday, 03 April 2012 15:58
UDIA (VIC) and EnviroDevelopment
Executive Director of the Urban Development Institute of Australia, UDIA (VIC), Tony De Domenico, has announced 'Aston', a 1,700 lot residential lifestyle project by Peet Limited, at Craigieburn has received certification as a UDIA EnviroDevelopment in three elements: ecosystems, water and community.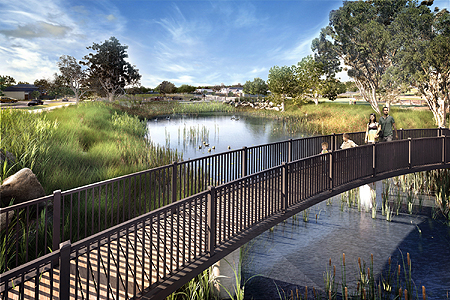 The Aston wetlands
Announcing the certification at the UDIA EnviroDevelopment second anniversary Mr De Domenico said, "Aston reflected the high standard of sustainability and community development being implemented across the housing and development industry in Victoria".
"Two years ago UDIA (VIC) launched the EnviroDevelopment program, a scientifically-based branding system designed to make it easier for purchasers to recognise and select more environmentally sustainable developments and lifestyles".
"To receive certification the projects are independently audited by a team of specialists and to retain the certification the projects are audited every year."
Mr De Domenico said, "The Peet Limited Aston project included A Class recycled water to all homes and is at the leading edge of sustainable lifestyle development that had developed a strong sense of community."
Peet Limited State Operations Manager, Jason Smith said, "the UDIA EnviroDevelopment certification is an important recognition of the many people who have worked on the project and the integrity of Peet Limited's 'Ten Year Environment Plan" on all of its residential projects."
Aston provides residents a total of 20 hectares of parkland and open space including a sprawling eight-hectare active space, with three first -class sports fields and a sports pavilion.
To complement the active areas, there are significant wetland areas of close to seven hectares with viewing decks and paths, which will surround a natural waterway.
Cycle paths and walking trails will link all of Aston's parks and public open spaces - so getting around can be both environmentally friendly and healthy. The parks and open spaces are maintained all year round using recycled water.
Mr De Domenico said, "Peet Limited 'Cardinia Lakes' was also awarded EnviroDevelopment certification by the Urban Development Institute of Australia (UDIA) in the categories of Ecosystems and Community - and becomes one of three Peet Victorian communities now certified.
Aston now joins Quarters in Cranbourne West and Cardinia Lakes as an industry-leading, sustainable community.
EnviroDevelopment is an environmental assessment scheme, designed and administered by the UDIA to inspire and increase socially responsible development throughout Victoria.
Media Enquiries:
Ron Smith, Corporate Media Communications, UDIA - Mobile: 0417 329 201