Tuesday, 03 April 2012 15:52
UDIA (VIC) and EnviroDevelopment
Executive Director of the Urban Development Institute of Australia, UDIA (VIC), Tony De Domenico, has announced 'Cardinia Lakes,' the 700 lot residential lifestyle project by Peet Limited near Pakenham, has received official certification as an UDIA EnviroDevelopment in two elements: ecosystems, and community.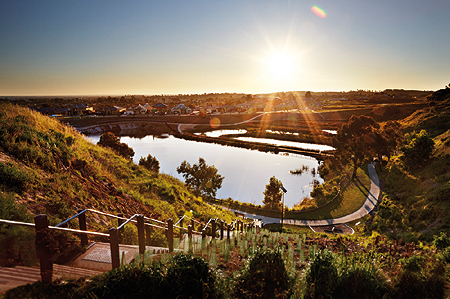 Cardinia Lakes
Mr De Domenico said, the UDIA EnviroDevelopment certification recognises the outstanding environmental and community achievements of 'Cardinia Lakes' as a sensitive sustainable environmental residential development."
"To receive the certification the projects are independently audited by a team of specialists and to retain the certification the projects are audited every three years".
"Two years ago UDIA (VIC) launched the EnviroDevelopment program, a scientifically-based branding system designed to make it easier for purchasers to recognise and select more environmentally sustainable developments and lifestyles."
The Ecosystem Certification recognises achievements in protecting and enhancing health and sustainability of natural systems and the encouragement of native biodiversity and rehabilitation of degraded sites.
The Community Certification relates to vibrant, cohesive, sustainable communities with good community design; the provision of community facilities and networks; safe, accessible housing and options for the reduced use of private motor vehicles.
Mr De Domenico said the heart of Cardinia Lakes, a major 18 hectare lake precinct with extensive parklands and open space provides a benchmark of environmental excellence which has encouraged native flora and fauna to return to the area.
Peet Limited State Operations Manager, Jason Smith said, "the UDIA EnviroDevelopment Certification was an important recognition of the many people who have worked on the Cardinia Lakes project and of the integrity of Peet Limited's 'Ten Year Environment Plan on all of its residential projects."
Mr De Domenico said the Cardinia Lakes EnviroDevelopment certification by the Urban Development Institute of Australia (UDIA) in the elements of Ecosystems and Community - now becomes one of three Peet Victorian communities to be recognised in this way.
Cardinia Lakes now joins Quarters in Cranbourne West and Aston in Craigieburn as an industry-leading, sustainable community.
EnviroDevelopment is an environmental assessment scheme, designed and administered by the UDIA to inspire and increase socially responsible development throughout Victoria.
Media Enquiries:
Ron Smith, Corporate Media Communications, UDIA - Mobile: 0417 329 201