Media Release
Wednesday, 14 December 2011 12:45
The Urban Development Institute of Australia (UDIA), the peak body for Australia's development industry, which directly accounts for 7.3% of Australia's GDP and 9.1% of the Australian workforce, has called for an urgent focus on housing affordability.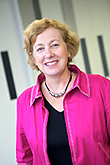 Julie Katz, UDIA National President 
UDIA National President Julie Katz, who will today speak at the 5th Annual Housing Affordability Conference in Melbourne said, "housing affordability has dropped off the agenda at a Federal level with all eyes focusing on carbon tax, party political disputes, industrial relations, uranium sales and asylum seeker battles."
Ms Katz said whilst all of these issues are important and deserve time, we have not seen the same passion or effort being put into "The Great Australian Dream" of home ownership by any major party.
Whilst welcoming the appointment of senior Cabinet Minister Robert McClelland as the new Housing Minister, Ms Katz said any efforts by the Federal Government to address housing affordability will need to be taken across a number of portfolios including Treasury, Environment, Sustainability, Energy, Water and Local Government in order to make a sensible and sustainable impact on the spiralling cost of housing.
A similar whole of government approach also needs to be taken at a State level.
Recent figures by Charter Keck Cramer show in 2011 taxes and charges across the three levels of Government on an average block of land in Victoria costing $199,000 was $46,200.
"Housing (shelter) is the most common and basic need of every Australian family," Ms Katz said.
"The main aim of UDIA members was to deliver affordable housing across Australia which significantly underpins economic, environmental and social stability".
"Currently the housing affordability crisis in Australia is being artificially inflated by confused policies between the Federal, State and Local Governments and a lack of co-ordination between Ministries creating a costly tsunami of paperwork, red tape and uncertainty."
"Fifty years ago in Australia buying a block of land and building a home was a relatively simply process."
"Today the basics of home building are the same, but what has changed is the micro management of all three levels of government which has resulted in the first home buyers of today being confronted with a raft of non productive and costly delays and taxes on new homes".
In 2012 UDIA will be working closely with the Federal Government and the Opposition to develop policies to improve housing affordability for all Australians and put the Great Australian Dream with the reach of most Australians, Ms Katz concluded.

2011 figures Charter Keck Cramer (VIC Prices)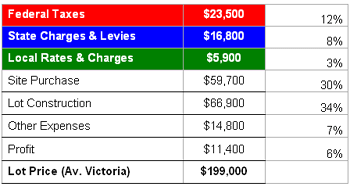 Media Enquiries:
Ron Smith, Corporate Media Communications, UDIA - Mobile: 0417 329 201