Media Release
Friday, 01 August 2014 15:18
Bendigo is set for a new golden era being driven by investment and Victoria's population growth, the Urban Development Institute of Australia (UDIA) Victoria said today.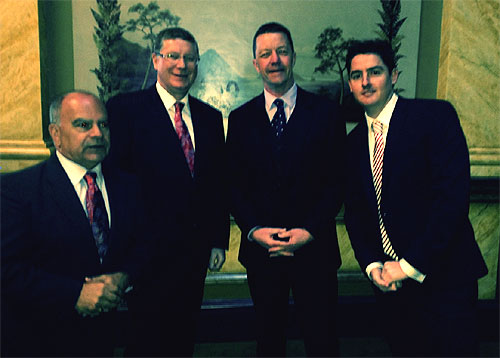 Left: Tony De Domenico, Executive Director, UDIA Victoria; the Hon. Denis Napthine MP, Premier of Victoria;
Damien Tangey, UDIA Victoria Vice President and Cameron Clarke, Bendigo Manager of Spiire, at the UDIA Industry Lunch in Bendigo today.
Local businessman Damien Tangey, UDIA Victoria Vice President and Chairman of the Northern Victorian Regional Chapter, said "Bendigo's existing infrastructure, competitive housing affordability and low interest rates, combined with quality country living lifestyle, provides a strong sustainable economic growth scenario for the Bendigo region."
Speaking following the UDIA Industry Lunch in Bendigo today, addressed by the Premier, the Hon Denis Napthine MP, Mr Tangey said with 52 suburbs in Melbourne that had a median house price in excess of a million dollars in June quarter 2014 *1, Bendigo, which in June quarter 2014 had a median house price of $335,000, provides a strong attraction for both home buyers and investors.*2
"Bendigo's competitive housing cost advantage is supported by Bendigo's efficient transport links to Melbourne, numerous construction projects, a growing population, ongoing investment by government in infrastructure and a strong commitment by the City of Greater Bendigo to maximise sustainable economic opportunities for the community and businesses."
The proposed $62.2M for capital and major works to enhance the liveability of Greater Bendigo allocated in this year's budget to include Stage 1 of the Canterbury Park redevelopment, completion of the 1000-seat Ulumbarra Theatre, works at the Bendigo Botanic Gardens and future planning for the Bendigo Indoor Aquatic Leisure and Wellbeing Centre all create employment and enhance Bendigo's liveability.*3
Mr Tangey said over the past four years building approvals had averaged 1022 per annum with 94% of the approvals in 2012 to 2013 being for separate dwellings.*3
The City of Greater Bendigo Housing Needs Analysis 2014 Research Paper HOUSING FORECAST TO 2031 has forecast 16,816 additional dwellings and an average of 891 homes a year, a 1.9% annual increase will be required.
Mr Tangey said that new and more diverse best practice housing product was planned for short term delivery in the Bendigo market and that the confidence for ongoing private sector investment was being largely generated from the state government's commitment to major investments in health, education, arts and community facilities.
"Past and current programs by the Victorian Government to improve rail transport to Bendigo and regional Victoria generally has also provided a major incentive for people to move to regional and country Victoria."
Source:
*1 Real Estate Institute of Victoria
*2 REIV Property Research quarterly results
*3 The City of Greater Bendigo Housing Needs Analysis 2014 Research Paper HOUSING FORECAST TO 2031
Media Enquiries:
Ron Smith, Corporate Media Communications, UDIA Victoria - Mobile: 0417 329 201