Media Release
Friday, 23 May 2014 10:49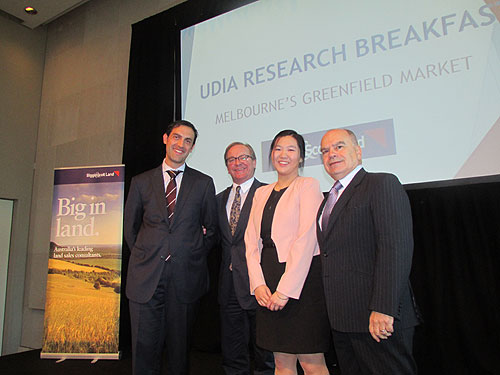 Left: Robert Papaleo, Research Director, Charter Keck Cramer; Frank Nagle, Director, Biggin Scott;
Aveline Suen, Senior Valuer, Charter Keck Cramer with Tony De Domenico, Executive Director,
UDIA Victoria at the UDIA Research Breakfast.
Robert Papaleo, Research Director of Charter Keck Cramer, speaking at the Urban Development Institute of Australia (UDIA) Victoria Research Breakfast on the Greenfield Market said, "The stability in market conditions and lot prices has underpinned industry confidence although economic headwinds appear to be impacting on some consumers' willingness to participate in the market, especially First Home Buyers."
"All Melbourne's submarkets have experienced an improvement in lot sales activity and stable prices. Importantly too, unsold stock inventory is continuing to decline which is further evidence of a more balanced market."
Mr. Papaleo said, "Sale volumes over the past three quarters have shown no sign of pushing beyond the critical 1,000 per month threshold, notwithstanding the increased level of competitive pressure across the market from a number of new estates that are providing consumers with a wider choice".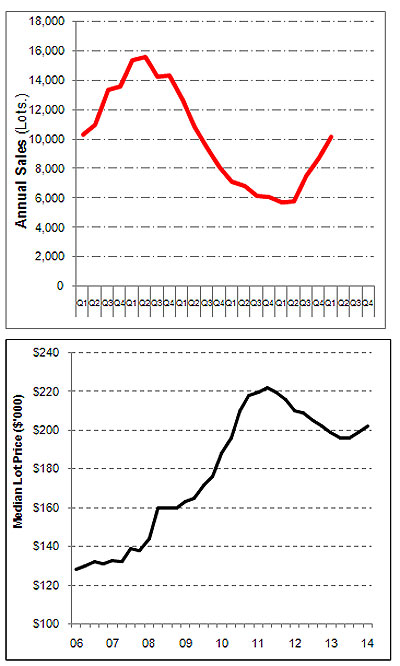 Graphs provided by Charter Keck Cramer
"Recent sales activity implies that new housing supply will continue to remain below underlying demand suggested by population growth.
"Lot prices have now stopped falling and are remaining stagnant."
Mr. Papaleo said the outlook for Melbourne is one of a fairly balanced market with sales activity at least underpinned by population growth (including from international migration) and modest growth in the established housing market which both tend to be leading indicators for the land market.
"A breakout in neither sales activity nor lot prices however is not anticipated."
Tony De Domenico, Executive Director of the Urban Development Institute of Australia, Victoria said, the Charter Keck Cramer report by Research Director Robert Papaleo provided the industry with a valuable insight into the Greenfield Markets.
Mr. De Domenico said importantly the research revealed a steady progress and stability for the property market which in turn will assist in underpinning and growing employment in the industry.
Media Enquiries:
Ron Smith, Corporate Media Communications, UDIA Victoria - Mobile: 0417 329 201