Media Release
Friday, 14 June 2013 14:36
Tony De Domenico, Executive Director of UDIA Victoria made the comments following a key presentation to UDIA members by Stephen Chapple, National Chair of Economic Development Australia, and Mark Holland, Head of Advisory at one of Australia's major Property Advisors Opteon, on why people should invest in the south east of Melbourne.
Mr. De Domenico said the three municipalities, with a combined population of 424,000, eleven per cent of Melbourne's population and a work force 185,000, is set for further major investment by government and the private sector. With a strong manufacturing framework the area has the potential of creating major employment opportunities.


Stephen Chapple
Stephen Chapple, National Chair of Economic Development Australia said, there were many reasons for both the government and the private sector to invest in the south east of Melbourne and build on its strong foundation for existing and future infrastructure.
"The major advantage of having two modern and strategically linked major roads - EastLink and Peninsula Link - now in place has provided the south east with 'ribbons of gold' in relation to the capacity to expand and complement local business activities, residential and commercial development.
"These two roads have been a major boost to tourism in the region with the Mornington Peninsula attracting some six million tourists annually."
Mr. Chapple said the commitment by the Victorian Government to develop the Port of Hastings as a major container port to take advantage of the unencumbered channel access and natural deep water of Westernport is a strategic policy that will provide a major cornerstone for the economic development of the south east of Melbourne long term.
"With 40 per cent of all current containers having an origin and destination in Melbourne' s south east there will be considerably less freight traffic on the metropolitan road network if a Port were located at Hastings where there is already approximately 3,500 hectares of land around the Port zoned for Port related uses," Mr. Chapple said.


Mark Holland
Mark Holland, Head of Advisory Opteon Mark Holland, Head of Advisory at Property Advisors Opteon said the changing value of the median home prices in the south east which showed that areas such as Mordialloc, Carrum Downs, Mornington, Baxter, Seaford and Hastings had outstripped Metropolitan Melbourne prices, in some cases by up to 35 per cent in relation to percentage of price rises, reflected the ongoing investment in infrastructure and accessibility of the area.
"It also reflected the benefit of strategic planning by Frankston City Council and other Councils in their designation of commercial and manufacturing land use close to transport infrastructure to provide growing employment nodes in close to proximity to residential precincts and town centres."
Mr. Holland said the south east region could be described as a valuable all rounder providing a growing environment for manufacturing, health, education, residential development, transport logistics and tens of thousands of small businesses and jobs.
"All of which will provide growth in the property sector in construction and property values," Mr. Holland said.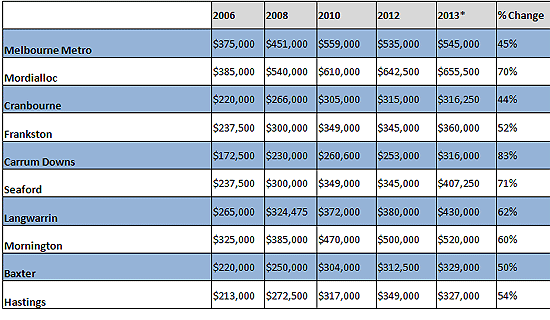 Source: Opteon
Download the UDIA Presentations
Stephen Chapple Presentation - pdf - 2.4mb
Mark Holland Presentation - pptx - 5.3mb
Media Enquiries:
Ron Smith, Corporate Media Communications, UDIA (VIC) - Mobile: 0417 329 201