Media Release
Wednesday, 23 May 2012 14:29
42% drop in Growth Area land sales over the past twelve months.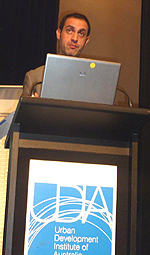 Robert Papaleo, Research Director, Charter Keck Cramer, speaking at the UDIA Research Breakfast.
The Victorian property development industry is in for a tough fight to maintain investment and jobs in the next three years, the Urban Development Institute of Australia (Victoria) said today.
Executive Director of the UDIA (VIC) Tony De Domenico, speaking following the UDIA Research Breakfast in Melbourne this morning said, "The address by Robert Papaleo, Research Director, Charter Keck Cramer, provided a stark focus on the impact of the 42% drop in land sales over the past twelve months and the challenges ahead".
"The property industry in Victoria directly employs around 310,000 full time employees, contributes around 12 per cent of the state's gross domestic product and $4.6 billion in taxes to all tiers of government".
In his presentation to around two hundred leaders in the Victorian property sector, Robert Papaleo warned Melbourne's enduring advantage of affordable greenfield land has now ended with significant economic impacts from reduced sales activity in the greenfield market.
Mr Papaleo said "With future land development costs escalating as the greenfield market contracts, there is a danger of the wholesale land market becoming increasingly inactive."
"If escalating embedded development costs resulted in land values becoming less than that of underlying residential rural land, there is a potential for the stagnation of the development (and new housing) industry in the medium term."
"This could lead to the running down of industry's production capacity, reduced investment by major financiers and developers and the loss of the development industry's capacity to produce more affordable land supply."
"The result being a detrimental impact to community through reduced housing affordability, lesser attractiveness of Melbourne as a destination and ultimately a major detrimental impact on the Victorian economy."
Mr De Domenico said, "The UDIA would be working with the Victorian Government and other sectors of the industry to maintain jobs, employment and financial sustainability"

Media Enquiries:
Ron Smith, Corporate Media Communications, UDIA - Mobile: 0417 329 201