Media Release
Tuesday, 03 January 2012 12:30
New home buyers can pay $341 a month for twenty five years, including $56,220 interest at 7.5%, on a block of land costing $200,000, just to cover Government taxes and charges as Australia's housing affordability has hit an all time low.  

Tony De Domenico
Executive Director 
UDIA (VIC)
Tony De Domenico, Executive Director of the Urban Development Institute of Australia (Victoria) said, "recent figures by Charter Keck Cramer show in 2011, taxes and charges across the three levels of Government on an average block of land in Victoria costing $199,000, was $46,200.
"When this is added to a normal housing loan over 25 years, the first home buyers real bill for the taxes and charges is a monthly payment of $341 for 25 years with total interest costing $56,224. More than the original TAX of $46,200. *
"In reality this takes the cost of taxes to over 50% of the cost of the block of land.
"The large proportion of the price of a house and land package, or of a new apartment, in levies to state and local government, utilities and authorities is putting housing out of the reach of first home buyers, making it harder to build more homes, and forcing the price of existing homes and rents up."
"In the wake of the National Housing Supply Council (NHSC) report released recently revealing the gap between demand and supply of affordability increased by 28,200 to 186,800 housing units in 2011. The report forecasted that Australia would have a 640,000 shortfall of affordable housing in 20 years."
Mr De Domenico said there is a need for an urgent national land and housing supply policy. In Victoria the Baillieu Government had honoured its election promise despite difficult budget times by reducing stamp duty, however, the impact of this is being wiped out by additional costs caused by increasing red tape and delays to planning through complicated and often over lapping policies of Federal, State and Local Governments.
"Every time a project is delayed or a cost added, ultimately it is passed on to the land buyer."
Mr De Domenico said the current housing affordability crisis required Governments to draw a line in the sand and undertake several direct actions:
Scrap stamp duty and lift GST to create a fairer infrastructure funding model
Introduce Government Infrastructure Bonds
Immediately target overlapping policies and their cost on housing affordability in the departments of Treasury, Environment, Local Government, Transport and Roads and Climate Change.
Investigate the use of Carbon Tax Trading Credits to provide low cost loans for the development industry undertaking environmental green developments, and new home buyers building homes with low carbon foot prints.
The UDIA (VIC) considers that the regions should be strengthened; significant growth in the population of Australia's medium sized cities would produce a range of economic and social benefits.



Source: Real Estate Institute of Victoria

Loan Repayment NAB Calculator
$46,200 at 7.5% over 25 years - monthly payment $341.00. Total Interest Payable $56,224.

2011 figures Charter Keck Cramer - Victoria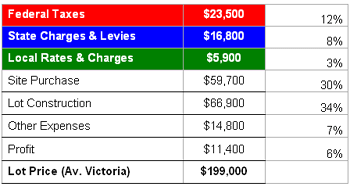 Charter Keck Cramer 2009 figures - Victoria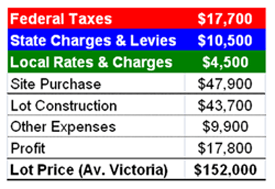 Media Enquiries:
Ron Smith, Corporate Media Communications, UDIA (VIC) - Mobile: 0417 329 201