Media Release
Friday, 14 October 2011 13:25
Creating green healthy environments will continue to underpin major design elements of future housing developments, the Urban Development Institute of Australia (Victoria) - UDIA (VIC) said today. 
Executive Director of UDIA (VIC), Tony De Domenico, at the UDIA Victorian State Conference today announced 'Evergreen Waters,' a seven hundred lot housing project by Simonds Developments, being built in a prime central area of Northern Bendigo, had received official certification as an EnviroDevelopment in three elements: ecosystems, water and community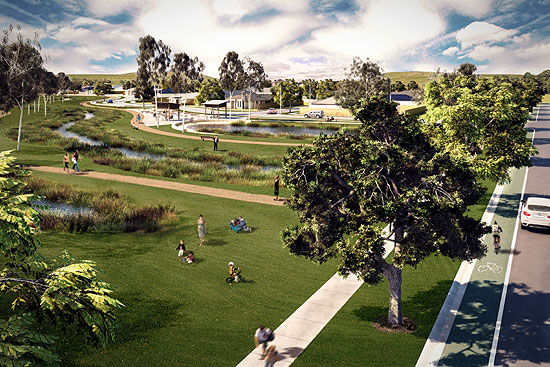 'Evergreen Waters' project by Simonds Developments in Northern Bendigo
Presenting the accreditation certificate Mr. De Domenico said, "Evergreen Waters has become the first accredited EnviroDevelopment within the area covered by the newly created UDIA Victorian Northern Regional Chapter and reflected the high standard of sustainability being reflected across the housing and development industry in Victoria."
"Three years ago the UDIA (VIC) launched the EnviroDevelopment program, a scientifically-based branding system designed to make it easier for purchasers to recognise and select more environmentally sustainable developments and lifestyles."
"The EnviroDevelopment program is unique in that it assesses the whole of a development for its sustainability credentials, not just individual homes. Its accreditation system recognises excellence in the areas of water, energy, ecosystems, community, materials and waste."
"Many housing developments by UDIA (VIC) members over the past decade have made substantial contributions to the environment through the creation of parks, wetlands, lakes, cycling and walking paths, enhancing habitat for wildlife." "Home buyers are becoming more and more discerning. They want to buy a lifestyle, not just a house and land package and they want this lifestyle to be sustainable," Mr De Domenico said.
Commenting on the accreditation General Manager of Simonds Developments, James Hanley said, "the continuing strong sales of land at Evergreen Waters reflected the demand of the community for eco-friendly lifestyles which are present at the project through the inclusion of a linear park, bike trail, and surrounding wetland and bushland areas."
Mr Hanley said "the generous lot sizes and the high quality homes being built to a strict building code, ensuring street amenities and investments are protected for the future, provides a further long term dimension to the protection of both the environment and lifestyle of residents of Evergreen Waters."
Visit www.envirodevelopment.com.au for further details.
Further information at www.evergreenwaters.com.au
Media Enquiries:
Ron Smith, Corporate Media Communications, UDIA (VIC) - Mobile: 0417 329 201