Media Release
Thursday, 01 March 2012 08:11
Sandhurst Club and Limbs 4 Life
Limbs 4 Life and Sandhurst Club will unveil the latest technology for Amputee Golfers this morning - 'The Paragolfer'.
Melissa Noonan, Executive Officer of Limbs 4 Life said, with the support of Christian Hamilton from Sandhurst Club and the PGA Learning Centre, Limbs 4 Life will demonstrate the 'amputee golf cart' which enables the amputee golfer to 'stand up' with mechanical assistance to drive the golf ball.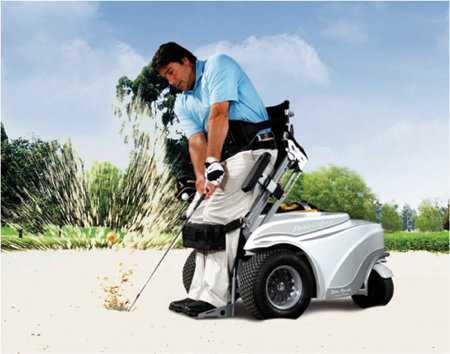 The Paragolfer
The Paragolfer is a singular all-terrain special mobility device that lifts people
from a sitting position to a standing position. By enabling an upright posture,
the Paragolfer allows for unrestricted shoulder movement.

Christian Hamilton, Sandhurst Club Golf Professional said, "the Paragolfer is another step in recognising the importance of golf as a CAN DO sport for Amputees".
"Sandhurst Club, the PGA and Limbs 4 Life commenced golfing clinics for amputees in 2009. The purpose of these clinics is to provide amputees with the tools required to become involved with golf and have the confidence to participate and we are keen to expand this program."
Mr Hamilton said the benefits of the amputee golf clinics are twofold; firstly golf is a wonderful sport for people living with a physical disability, more so amputees; as it enhances and challenges balance, assists with flexibility and aids core stability while promoting general well being. The second benefit is simply the fact that the clinics provide the opportunity for amputees to get together in a relaxed environment and can share the benefits of peer to peer support.
"Amputees from all ages are welcome to attend. We encourage novice golfers while they are still in-patients at rehabilitation hospitals. It gives them something positive to focus on outside of what is a serious clinical environment," Mr Hamilton said.
Media Enquiries:
Ron Smith, Corporate Media Communications, Sandhurst Club - Mobile: 0417 329 201