Media Release
Monday, 03 October 2011 13:21
Sandhurst Club and Limbs 4 Life
Amputee golfers in Victoria and members of the Sandhurst Golf Club got the chance of a lifetime when they were photographed with the world's most famous golfing trophy - 'The Presidents Cup' at Sandhurst Golf Club on Thursday. 
Melissa Noonan, Executive Officer, Limbs 4 Life said, the Presidents Cup visit coincides with the announcement of the Sandhurst Limbs 4 Life Golf Tournament, which will take place on Friday 18 November 2011 during the Presidents Cup.
Ms Noonan welcomed the support of Inga Peulich MLC, State Member for the South Eastern Metropolitan Region, and Cr. Geoff Ablett, City of Casey Councillor and former Hawthorn AFL star, for the Limbs 4 Life Golf Tournament.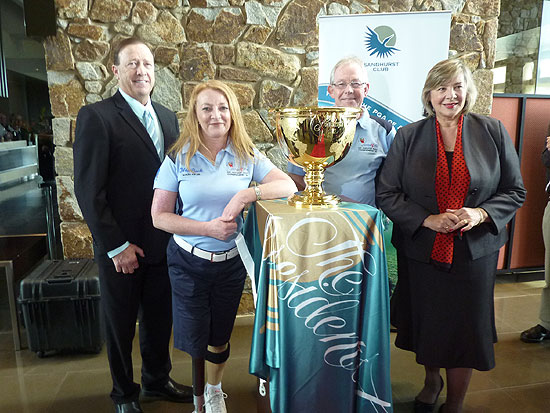 L/R City of Casey Councillor Geoff Ablett, Melissa Noonan Executive Officer Limbs 4 Life,
Rem Gallet Limbs 4 Life Golfer, and Inga Peulich MLC, State Member for the South Eastern
Metropolitan Region at the Limbs 4 Life Sandhurst Club Presidents Cup Launch.

"The Limbs 4 Life golfing clinics for amputee golfers have been developed by Sandhurst Golf Professional Christian Hamilton with the support of the PGA Learning Centre and Sandhurst Club over the past two years."
"The purpose of these clinics is to provide amputees with the tools required to become involved with golf and have the confidence to participate in sport after a serious injury."
Christian Hamilton said, "the visit by the President's Cup to Sandhurst provided a historic occasion for Sandhurst with the golf course being designed by Peter Thomson, Australia's most decorated golfer, Captain of the International Team in 1998 when the Presidents Cup was played at Royal Melbourne Golf Club in Melbourne."
Limbs 4 Life Golf Tournament
Nine and Dine $55.00 per player includes cart
Friday 18 November 2011
Registration & welcome: 3.00pm Shotgun Start: 3.30pm
Dinner: Outdoor BBQ dinner
To Register telephone Limbs 4 Life : 1300 782 231 (free call)
Media Enquiries:
Ron Smith, Sandhurst - Mobile: 0417 329 201