Media Release
Monday, 22 August 2011 09:52
Sandhurst Club and Limbs 4 Life
Melissa Noonan, Executive Officer of Limbs 4 Life said, with the support of Christian Hamilton from Sandhurst Club and the PGA Learning Centre, Limbs 4 Life launched the first amputee golf coaching clinic in April 2009.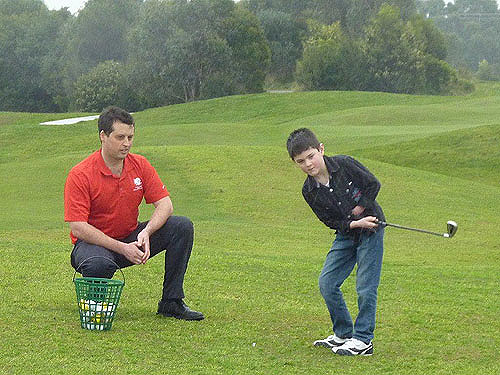 Christian Hamilton, Sandhurst Club PGA Golf Professional and Jack, a Limbs 4 Life
children's golf clinic participant

"The purpose of these clinics is to provide amputees with the tools required to become involved with golf and have the confidence to participate and we are keen to expand this program.
"The Limbs 4 Life Sandhurst Club Golf Clinics for amputees are run on regular monthly time table with many of the participants travelling long distances to take part.
"The clinics are complemented with an annual Limbs 4 Life golf tournament at Sandhurst Club."
Christian Hamilton, Sandhurst Club PGA Golf Professional, who had pioneered the Limbs 4 Life training program with fellow PGA Pro Stuart Leong, said, the development of the children's program with Limbs 4 Life was a vital step in developing a curriculum which one day we hope will be taught throughout Australia and internationally.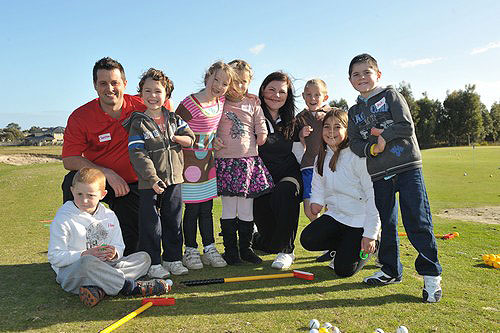 Christian Hamilton, Sandhurst Club PGA Golf Professional with Limbs 4 Life participants in the children's golf program.
"Of all the coaching and teaching I and others undertake in golf, this area is one of the most rewarding.
"Not only does the golf activity create an opportunity for the children to develop new skills and assists with their balance and movement, it is also an activity which is designed to involve the entire family."
Mr Hamilton said in the future I can see golf becoming increasingly used in conjunction with Occupational Therapy and as both a physical and social pathway for people to recover after a severe injury.
"The development of the Limbs 4 Life golfing program has been made possible through the strong support of the members of the Sandhurst Golf Club, the PGA and the Sandhurst Community.
"However, we are at a stage now where we need some extra sponsorship to develop the curriculum so ultimately we can extend this Limbs 4 Life Sandhurst program across Australia."
Brian Thorburn, CEO of the PGA, who have been integral in the development of the Limbs 4 Life program through the PGA Learning Centre, said, "the Limbs 4 Life program is an outstanding example of why golf continues to be one of the most accessible sports in Australia.
"This initiative is a huge credit to Christian and the Limbs 4 Life team and I hope we soon see the program expanded across the country."
Any company or organisation who would like to assist can call Melissa Noonan, Executive Officer at Limbs 4 Life on 1300 782 231.

www.limbs4life.com

Media Enquiries:
Ron Smith Sandhurst Club - Mobile: 0417 329 201