Media Release
Wednesday, 22 June 2011 15:35
Victorian State Youth Brass Band
Media Alert
1.00pm Friday 24 June 2011
Victorian State Youth Brass Band European Tour
Front Steps of Victorian Parliament, Melbourne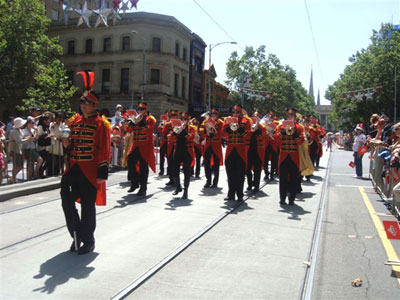 Victorian State Youth Brass Band
The steps of the Victorian Parliament today will play the backdrop to a special farewell performance by members of the Victorian State Youth Brass Band IN FULL UNIFORM before they embark on a special European Tour.

Today's symbolic performance on the steps of the Victorian Parliament is the start of a journey which will see the young brass musicians aged from 10 to 25 from all over Victoria performing in many of Europe's best concert halls, parks and venues.

The Band will visit Germany, Belgium, UK, France and Austria whilst passing through many of the other neighbouring countries.

Michael O' Sullivan, Spokesman for the Band, said one of the highlights of the tour follows an invitation from the Last Post society in Ypers to perform at the Menin Gate.

A ceremony that started after the First World War to pay respect to the allied men, that fought and died fighting for freedom. This ceremony has continued every night at 8:00pm since the Great War except for the Belgium during Hitler's reign.
Mr O'Sullivan said, "The Band today will perform the Last Past in recognition of the Belgium performance of Last Post and Rouse for the ceremony.

Whilst in France the band will perform at the "happiest place on earth", Disneyland Paris.

"They will march down "Main Street USA" in the Disneyland playing an Australian traditional piece with a slight grove to it!"

Media Enquiries:
Ron Smith, Corporate Media Communications - Mobile: 0417 329 201