Ovarian Cancer Australia and Sanctuary Lakes Club Tee Off Against the 6th most common cause of cancer death in Australian women
Wednesday, 13 April 2011 16:20
Sanctuary Lakes and Ovarian Cancer Australia
Ovarian Cancer Australia and Sanctuary Lakes Club have joined forces to tee off against the 6th most common cause of cancer death with a combined community awareness and fundraising program.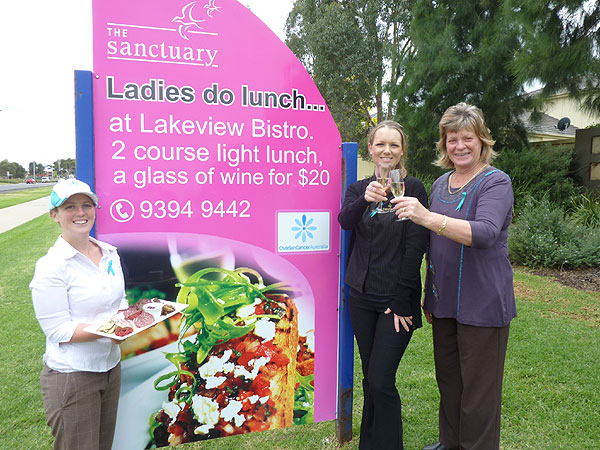 Left: Helen Malley, Ovarian Cancer Australia;
Amanda Featherston, Lakeview Bistro Supervisor and
Jeanne Burbidge, Sanctuary Lakes resident toast the launch of 'Ladies do Lunch'

Announcing the 'Ladies do Lunch' part of the promotion, Community Relations Manager of Ovarian Cancer Australia, Helen Malley said, "each year more than 1200 Australian women are diagnosed with ovarian cancer and 800 women die from the disease.
"On average 3 Australian women are diagnosed every day and because the disease is difficult to detect approximately 75% of women are diagnosed at an advanced stage, where the cancer has spread and is difficult to treat successfully."
Ms Malley said, "the 'Ladies do Lunch' program at the Lakeview Bistro is based around a $20.00 two course lunch and a glass of wine. It is aimed through its connection to Ovarian Cancer to stimulate conversation about the disease and an increase of knowledge or warning signs."
The four most frequently reported symptoms from women diagnosed with ovarian cancer are:
Increased abdominal size or persistent bloating
Unexplained abdominal or pelvic pain
Difficulty eating or feeling full quickly
Needing to urinate often or urgently or a change in bowel habits*

"Whilst it might sound a strange mix to link lunch with finding out about a medical condition, we believe it provides a relaxed atmosphere. Whilst the promotion title is 'Ladies do Lunch' we are also encouraging men to come along as well."

Sanctuary Lakes Club is also supporting the fundraising activity through the sale of specially branded Ovarian Cancer Golf Balls and Golfing Hats which are available from the Pro Shop.

John Nielsen, Hospitality Manager of Sanctuary Lakes said, "the 'Ladies do Lunch' campaign at the Lakeview Bistro runs from Tuesday to Saturday with a special menu and is ideal for two people or group bookings to dine by the lake without any parking hassles.

"A special fundraising golf day is being planned later in the year."

Media Enquiries:
Ron Smith, Corporate Media Communications, Sanctuary Lakes - Mobile: 0417 329 201

*Ovarian Cancer in Australia: An Overview 2010 A report by Australian Institute of Health & Welfare and National Breast and Ovarian Cancer Centre (NBOCC is now part of Cancer Australia)