Media Release
Thursday, 11 August 2011 09:10
A project by Greening Australia, aimed at protecting and restoring species-rich native wildflower grasslands that once covered large areas of south-eastern Australia, has won the 2011 Earthwatch Rio Tinto Prize for Citizen Science - $25,000 prize.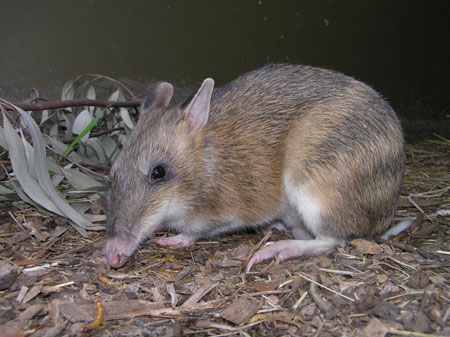 The critically endangered Eastern Barred Bandicoot
The award announced at the Earthwatch Oceania Gala 40th birthday celebration last night, will be presented to Greening Australia this morning by Brian Rosborough, Earthwatch Founding Chairman at the Werribee Open Range Zoo.
Greening Australia has partnered with Werribee Open Range Zoo since 2004, the Zoo being one of 13 original Grassy Groundcover Research Project (GGRP) experimental sites.
This project sought to create 1 hectare of species-rich grassland to be used to house and breed the critically endangered Eastern Barred Bandicoot. When complete visitors will not only be able to view this rare Victorian marsupial, but will also be able to admire the beauty represented by the wildflower grassland.
The award recognizes an individual or group whose outstanding environmental research directly involves, educates and inspires the Australian community.
Richard Gilmore, Executive Director of Earthwatch Australia said, Greening Australia's Grassy Groundcover Research Project (GGRP) was an outstanding example of what can be achieved when the community and scientists work together.
Mr Gilmore also acknowledged the support of Rio Tinto which made the award possible.
Established in 2004 the project was designed to stop the demise of native grasslands and restore them through direct-seeding. Native grasslands once covered large areas of south-eastern Australia but are now facing extinction with less than 1% remaining. Home to many hundreds of native species, native grasslands provide much needed food and shelter and are also essential for managing and controlling weeds. The restoration of native grasslands is integral to the biodiversity of pastoral areas and Australia's overall biodiversity.
Working closely with farmers, restorationists, and community volunteers this unique restoration initiative demonstrates that it is possible to reconstruct these complex ecosystems across Victoria.
The contribution by over 300 non-specialists in areas such as site management, seed collection, plant propagation and local extension, challenges a commonly held assumption that long-term research collaborations involving farmers and local communities are less likely to succeed than those run solely by research or government agencies on public lands.
Mr Gilmore said Earthwatch is very pleased to be able to support such valuable research, that is addressing a national biodiversity issue and restoring Australia's endangered grasslands.

www.greeningaustralia.org.au

www.earthwatch.org.au

www.zoo.org.au/WerribeeOpenRangeZoo
Media Enquiries:
Ron Smith, Earthwatch Communications - Mobile: 0417 329 201