Media Release
Friday, 18 March 2011 15:40
The free Little Green ebook 'Climate Change In My Back Yard: Caring for Children after the Floods' is aimed at providing some simple easy activities focused on re-establishing a link with the recovery through gardens and the environment.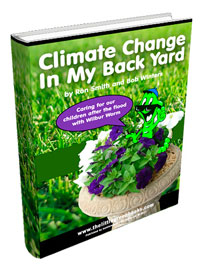 'Climate Change In My Back Yard: Caring for Children after the Floods'
Written by Melbourne publicist Ron Smith and Bob Winters, one of Australia's leading sustainability educators, the ebook focuses on the garden and gardening as one of the major touchstones of family activities where children learn their environmental life skills and an appreciation of nature. It also provides a great part of our childhood memories and what we pass on to future generations.
Mr Smith says the flood damage is extensive and many gardens may take years to re-establish, however, we believe it is important to start the focus on planting and nourishing involvement of children with positive activities, no matter how small.
"Whilst no one event such as this can be attributed to climate change which is a slow and developing trend, these events reflect the predictions of scientists working within this area and provide an example of the challenges our children and grandchildren may face".
"We understand that at this time there will be many people who cannot return to their homes as they wait for repairs to make their home safe."
Mr Smith says one of the issues in the ebook which could have many people stumped is a digital online puzzle where people are asked to put the sun, the clouds, the tree, flowers and water in the right place for Wilbur Worm to make a happy environment.
As its foundation the Little Green Book aims to provide parents and children with positive activities and projects where the entire family and friends can be involved.
"It is also about taking opportunities during this stressful time to assist flood affected children who may have had traumatic experiences to cope with emotional issues."
Archicentre, the building advisory service of the Australian Institute of Architects, the Australian Centre for Grief and Bereavement, Kidsafe Victoria, Master Plumbers and Mechanical Services Association of Australia and Earthwatch Institute (Australia) have contributed to this Little Green Book in the section related to special help for flood victims.
Click here for free download of ebook.
Media Enquiries:
Ron Smith - Mobile: 0417 329 201