Tuesday, 22 January 2013 14:25
Sanctuary Lakes and Horsham Golf Club
The bond that was formed between the Sanctuary Lakes and Horsham Golf Club's following the Black Saturday bushfires will be renewed on Sunday 10 February 2013, when the golfers from the two Club's battle it out for the fourth Phoenix Challenge at the Sanctuary Lakes Golf Course.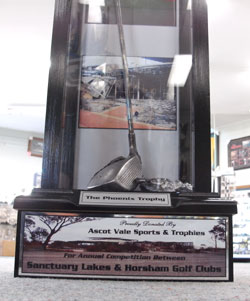 The Phoenix Trophy
The Phoenix Challenge grew from the links established between the two Clubs when Sanctuary Lakes staged a fundraising event to assist the Horsham Golf Club, which was badly damaged in the Black Saturday bushfires in 2009.
The Phoenix Challenge is played each year at alternate courses in the first week of February. It was won the first year by Sanctuary Lakes, the second year by Horsham and in the third year by Sanctuary Lakes. The cycle is being disrupted this year as the Horsham Golf Club is finishing the rebuilding of its Clubhouse.
Kevin Birtles, Captain of the Sanctuary Lakes Golf Club and John Priestley, Captain of the Horsham Golf Club said the ongoing event, born out of the adversity of Black Saturday, reflects a strong bond which has grown between the two Clubs.
The Victorian Minister for Sport and Recreation, Hugh Delahunty, a member of the Horsham Golf Club turned the first sod on the construction of a new Clubhouse early last year, congratulated the two Clubs on continuing the challenge.
Mr Delahunty said, "The Phoenix Cup was a great example of how sport can help overcome adversity and provide a special sign post for people to move forward and look towards the future.
Players from each Club will fight it out for the Phoenix Trophy, designed by golf writer George Begg and sponsored by Ascot Vale Sports &Trophies, which features a resurrected golf club from the Black Saturday fires, at the Sanctuary Lakes Golf Club on Sunday 10th February 2013.
This event is a Stableford event and the Club with the best average score wins.
Tee Off Time 8.00am Sunday 10 February 2013.
Media Enquiries:
Ron Smith, Sanctuary Lakes Media Communications - Mobile: 0417 329 201