Tuesday, 18 January 2011 15:32
Sanctuary Lakes and Horsham Golf Club
A Sanctuary Lakes team of golfers is set to travel to Horsham Golf Club on Sunday 6 February 2011 for the second Phoenix Challenge. It is ironic at this time the Horsham Golf Course, badly damaged by the bushfires on Black Saturday, now in the lead up to the Phoenix Challenge, the township of Horsham is facing floods.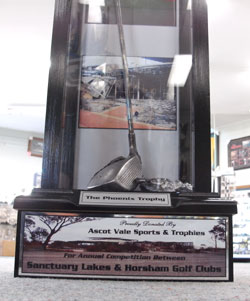 The Phoenix Trophy 
The last time the Horsham and Sanctuary Lakes Golf Clubs played each other it was for the inaugural Phoenix Challenge, an annual golf day to commemorate the anniversary of the Black Saturday bushfires.
The Phoenix Challenge grew from the links established between the two clubs when Sanctuary Lakes staged a fundraising event, sponsored by Links Living and the Bendigo Bank, to assist the Horsham Golf Club, which was badly damaged in the Black Saturday bushfires.
The Phoenix Trophy features a resurrected golf club from the Black Saturday fires at the Horsham Golf Club and some burnt golf balls. The Phoenix Trophy, which was won by Sanctuary Lakes, last year, will travel to Horsham for the event.
Brian Thomas, President of the Horsham Golf Club said, despite the rain, the golf course would be in top condition for the Phoenix Cup to be played, and we are looking forward to winning the Phoenix Challenge this year.

The Horsham Golf Club is ranked 30 in the 2011 Golf Course Guide's Australia's Best Public Access Golf Courses.
Noel Caulfield, Sanctuary Lakes Golf Club President, said the date of Black Saturday on 7 February coincided with the official opening of the Greg Norman designed Sanctuary Lakes Golf Course, cementing a strong historical link between the two clubs.
Last year in a closely fought game when the scores were averaged out Sanctuary Lakes had just won the Phoenix Challenge 30.21 to 29.71. Individual winners on the day were Noel Caulfield, Club President of Sanctuary Lakes and Julie Wirth, the Ladies Captain of Horsham Golf Club.

Media Enquiries:
Ron Smith Sanctuary Lakes Media Communications (03) 9818 5700 Mobile: 0417 329 201