Media Release
Thursday, 31 May 2012 15:24
The City of Geelong has received some good economic news today with the announcement by developer Links Living that construction works have commenced at the Geelong Golf Club Residential Estate. 
The 45 hectare site will soon feature 320 modern homes, a nine hole golf course, golf academy, driving range, parks, walking and cycling tracks, and is positioned in the heart of Geelong. A Bowling Club and Medical Centre are also proposed for the site.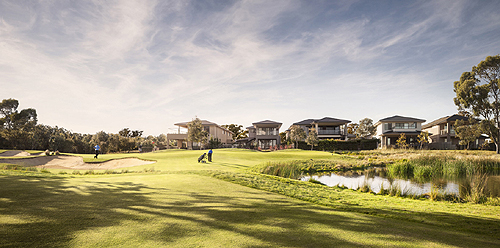 Artist's Impression Hole 4 at the Geelong Golf Club Residential Estate
Coming at a time when the creation of employment and investment is urgently needed in Victoria, the commencement of the Geelong Golf Residential Estate will be a major boost for employment in the Geelong region.
Ruth Ritchie, Sales Manager for the project, said the commencement of construction works is important for future residents as it now provides a time line for when purchasers will be able to move into their new homes.
"The start of construction should also create greater interest from home buyers in the project," Ms Ritchie said.
Some of Geelong's leading builders including Metricon, Simonds, Burbank, Hamlan Homes, Geelong Homes, Sherridon Homes and Macalister Homes are all set to build on the Estate.
Golf course earthworks are now underway and signal the start of a program of works that will see homes being built in early 2013.
Ms Ritchie said existing purchasers have placed a high value on the Estate's premium location in Geelong, being an easy two minute drive to the scenic Western Beach and the popular Pakington Street shopping precinct.
The Estate is also located close to the new Geelong Bypass with travel time to Melbourne approximately 1 hour and is within 30 minutes from some of Victoria's most iconic family and surf beaches such as Torquay and Barwon Heads.
The Geelong Golf Club Residential Estate will be governed by an Owners Corporation aimed at ensuring all individual housing designs are designed and built to a high standard, and the golf course and other community owned facilities remain well maintained in perpetuity.

Media Enquiries:
Ron Smith, Links Living Media Communications - Mobile: 0417 329 201